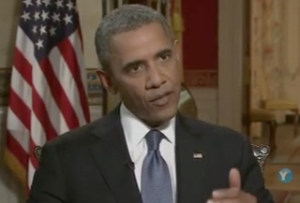 President Obama sat down with Judy Woodruff and Gwen Ifill on PBS Newshour following his speech commemorating the 50th anniversary of the March on Washington, but before he reflected on that, he addressed impending U.S. military action in Syria. Obama said, "I have not yet made a decision," but laid out the rationale should he approve missile strikes (reportedly coming as early as tomorrow).


RELATED: Obama's Aides Reject 'Passé Tactic' of Addressing Americans Ahead of Syria Attack
Obama acknowledged the gravity of the situation in Syria, but made it clear that whatever action the U.S. does or does not take, "direct military engagement… would not help the situation on the ground." He said the U.S. government has "concluded" chemical weapons were indeed used by the Syrian government, making it clear that the use of such weapons can't allow to go on without "international consequences," though Obama did clarify that the United States has "no interest in any kind of open-ended conflict in Syria."
Woodruff and Ifill posed some critical questions to Obama, with Woodruff asking what military action would accomplish if it's supposed to be limited, and Ifill bringing up seismic political shifts in the Middle East during Obama's presidency, asking, "Do you worry at all that your administration underestimated what the toll would be of an Arab Spring?"
The president did not address concerns that he would take action without going through Congress first, a concern voiced by over 100 members of Congress in a letter sent to the president.
Watch the segment below, via WHYY:
—–
Follow Josh Feldman on Twitter: @feldmaniac
Have a tip we should know? tips@mediaite.com
Josh Feldman - Senior Editor