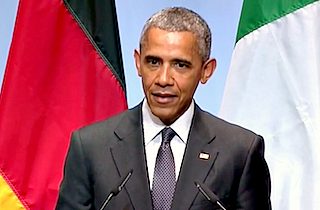 In a round of questions following his remarks on the G7 Summit in Germany Monday morning, President Barack Obama dismissed the King v Burwell Supreme Court case as a tortured misreading of the law, and added, "Anyway, the thing's working!"
"Part of what's bizarre about this whole thing is we haven't had a lot of conversation about the horrors of Obamacare because none of them have come to pass," Obama said, citing significantly higher insured rates and lower health care costs. "None of the predictions about how this wouldn't work have come to pass."
The King case questions whether the federal premium subsidies were meant to be part of the law; an ambiguous sentence suggests they might have been withheld to pressure states into creating their own exchanges. But most involved in the writing and passing of the Affordable Care Act say it was a vestigial idea long abandoned by the time the law was passed.
If the subsidies were overturned, however, it would wreak havoc in the health care industry, if not the economy in general. One reporter asked why Obama didn't have a Plan B in this event.
He responded that the ACA was a complex and interconnected piece of legislation that would be difficult to untangle, though he added that Congress could just fix the ambiguous sentence.
"This would be hard to fix," he said. "Fortunately, there's no reason to have to do it. It doesn't need fixing."
Watch the clip below, via CNN:
[Image via screengrab]
——
>> Follow Evan McMurry (@evanmcmurry) on Twitter
Have a tip we should know? tips@mediaite.com