Obama: Notion I Would 'Purposely Release Classified National Security Information Is Offensive'
Obama: Notion I Would Purposely Release Classified Information Is Offensive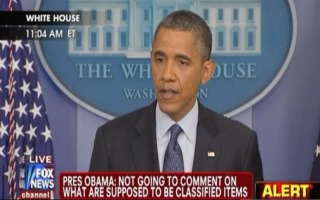 President Barack Obama addressed allegations from a bipartisan group of Congressional Representatives that suggest that the White House is intentionally leaking sensitive information relating to national security. president Obama said it was "offensive" to suggest that his White House would release sensitive details of national security-related operations and that people need to have a "better sense of how I approach this office and how the people around me approach this office."

In a press conference addressing the ongoing finical crisis in Europe, the President was asked to discuss concerns raised on Thursday by members of the House and Senate Intelligence Committees that called into question recent leaks of security-related secrets from the White House.
First, I'm not going to comment on the details of what are supposed to be classified items. Second, as Commander in Chief, the issues that you've mentioned touch on our national security, touch on critical issues of war and peace and they are classified for a reason – because they're sensitive. And, because the people involved may in some cases be in danger if they are carrying out these operations.

And when this information, or reports, whether true or false, surface on the front page of newspapers, that makes the job of folks on the frontlines tougher and makes my job tougher. Which is why, since I've been in office, my attitude has been zero tolerance for these kinds of leaks and speculation.

Now, we have mechanisms in place where, if we can route out folks that have leaked, they will suffer consequences. In some cases, these are criminal acts when they release information like this. And we will conduct thorough investigations – as we have done in the past.
Obama said he was personally insulted at the suggestion that his administration would release sensitive national security information for perceived political gain:
The notion that my White House would purposely release classified national security information is offensive. It's wrong and people, I think, need to have a better sense of how I approach this office and how the people around me approach this office. We're dealing with issues that can touch on the safety and security of the American people. Our families or our military personnel or our allies. So, we don't play with that.

It is a source of consistent frustration, not just for my administration but for previous administrations, when this stuff happens. And we will continue to let everybody know in government, or after they leave government, that they have certain obligations that they should carry out. But, as I think has been indicated from these articles, whether or not the information they received is true, the writers of these articles have all stated unequivocally that they did not come from this White House. And that is not how we operate.
"Whenever there is classified information that is put out into the public, we try to find out where that came from," Obama concluded.
Watch the press conference below via Fox News Channel:
Follow Noah Rothman on Twitter
Have a tip we should know? tips@mediaite.com