In a recorded YouTube recitation of the Gettysburg Address, President Obama omitted God from the final section of the Abraham Lincoln's famous Civil War speech.
While reading the address in its entirety, Obama read the line "that this nation, under God, shall have a new birth of freedom" without the words "under God."
The video was uploaded as part of a promotional site for Ken Burns' new PBS documentary. Dozens of celebrities, politicians, and all living presidents recited the address in full and posted the video to the site. Burns also created a montage mashing together all of the recitations.
Obama's, however, was the only one to leave out the phrase "under God." It's unclear whether that was a "gaffe" or a purposeful omission.
As a result, anger ensued.
"Will the networks notice his gaffe?" asks NewsBusters' Tim Graham.
Newt Gingrich wondered why a president would do such a thing:
Lincoln added "Under God" as he was looking out over battlefield. why would obama remove? http://t.co/xFjsJfYSLm #GettysburgAddress

— Newt Gingrich (@newtgingrich) November 19, 2013
Others, including Christian activist and radio host Bryan Fischer, went much further, accusing the president of having no respect for religious people:
Obama's omission of "under God" is more evidence of his anti-Christian bigotry. He honors Islam but disrespects Christianity.

— Bryan Fischer (@BryanJFischer) November 19, 2013
TheBlaze has reported extensively in the past on the controversy surrounding whether Lincoln actually said the words "under God" in his original speech.
Lincoln's original draft did not include the words "under God" and so, perhaps, Obama was reading from that iteration? We'll likely soon find out.
UPDATE: As Media Matters points out, Obama was specifically asked by Burns to read the so-called "Nicolay draft," the first draft of the address which did not include the words "under God." The Burns website even includes such an explainer: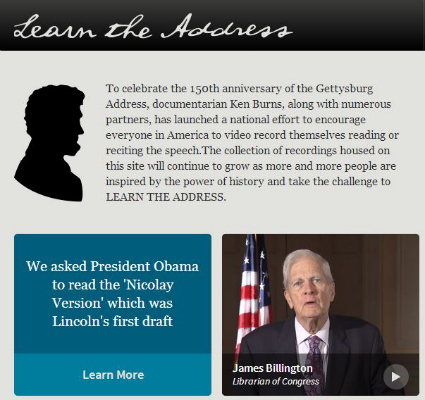 Watch below, via YouTube:

[h/t Chris Plante]
— —
>> Follow Andrew Kirell (@AndrewKirell) on Twitter
Have a tip we should know? tips@mediaite.com