Obama on Baltimore Riots: 'We, as a Country, Have to Do Some Soul-Searching'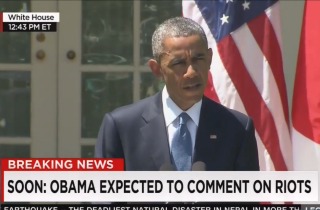 President Barack Obama on Tuesday called on the nation to "do some soul-searching" a day after rioters destroyed property and looted businesses in Baltimore, stemming from protests over the death of Freddie Gray in police custody.
Obama said the "criminals and thugs" who engaged in violent demonstrations were "counterproductive" to the "legitimate" concerns of those who want answers about Gray's death.
"When individuals get crowbars and start prying open doors to loot, they're not protesting," Obama said. "They're not making a statement. They're stealing … And they're destroying and undermining businesses and opportunities in their own communities that rob jobs and opportunity from people in that area."
These actions, Obama said, overshadowed the positive, "constructive" efforts by community leaders. "One burning building will be looped on television over and over and over again, and the thousands of demonstrators who did it the right way, I think, have been lost in the discussion," Obama said in a criticism of the media coverage.
The president warned people against "just pay[ing] attention to these communities when a CVS burns … or when a young man gets shot or has his spine snapped." He also called on police unions to "acknowledge that this is not good for police," and to "own up" to mistakes. At one point, Obama, who spoke for about 14 minutes, apologized to Japan Prime Minister Shinzo Abe for his long response.
According to the mayor's office, more than 200 arrests were made on Monday, while 144 vehicles and 15 structures were torched.
Watch the video below, via CNN:
[Image via screengrab]
— —
>>Follow Andrew Desiderio (@forza_desiderio) on Twitter
Have a tip we should know? tips@mediaite.com