Obama on Charleston Shooting: America Must 'Come to Grips' with Gun Violence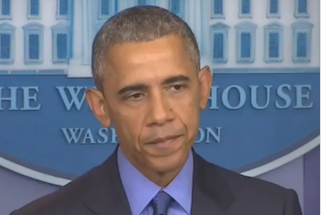 A visibly shaken and frustrated President Barack Obama spoke for several minutes from the White House early Thursday afternoon following the mass shooting at a black church in Charleston, South Carolina that left the pastor and eight others dead. Obama once again demanded renewed action on gun control and acknowledged the role that race played in the shooting.
"Until the investigation is complete, I am necessarily constrained to the talk aboutthe details of the case, but I don't have to be constrained to talk about the emotions that the tragedies like this raise," Obama said. "I have had to make statements like this too many times. Communities have had to endure tragedies like this too many times. We don't have all of the facts, but we do know that, once again, innocent people were killed in part because someone who wanted to inflict harm had no trouble getting their hands on a gun."
While the president said that now is the time for "mourning" and "healing," he added, "at some point, we as a country, we have to reckon with the fact that this mass violence does not happen in other advanced countries. It doesn't happen in other places with this kind of frequency. And it is in our power to do something about it."
"At some point, it's going to be important for the American people to come to grips with it," Obama continued. "And for us to be able to shift how we think about the issue of gun violence collectively."
The president went on to discuss the racial aspects of this instance, saying that the fact that it occurred in a historically black church "raises questions about a dark part of our history." He invoked the bombing of a church in Birmingham, Alabama 50 years earlier that killed four little girls.
Quoting what Dr. Martin Luther King, Jr. said in the aftermath of that attack, Obama recited, "They say to each of us, black and white alike, that we must substitute courage for caution. They say to us that we must be concerned not merely about who murdered them, but about the system, the way of life, the philosophy which produced the murderers. Their death says to us that we must work passionately and unrelentingly for the realization of the American dream."
Watch Obama's full remarks video below, via CNN:
[Photo via screengrab]
— —
>> Follow Matt Wilstein (@TheMattWilstein) on Twitter
Have a tip we should know? tips@mediaite.com