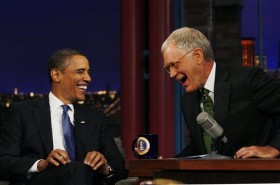 Last night President Barack Obama topped off his El Completo Ginsburg with an appearance on David Letterman — and this time, there were no Special Olympics jokes.
I'm referring, of course, to that other time Obama went on a late-night show as a sitting president — his visit to Jay Leno's couch back in March. Why is that relevant now? Well, because Obama learned from that incident, and as a result he was at the top of his game on Letterman: Relaxed, comfortable, loose….but not too loose.
Loose enough to do the top ten (with a Megan Fox joke! The hits for our favorite tag just keep coming!) and loose enough to get Dave laughing right out of the gate. Loose enough to crack a joke about a heart-shaped potato…but tight enough to nail his all-important, clearly pre-planned one-liner about race which he knew would be the big takeaway. "I was actually black before the election," now has roughly 15K+ results in Google (25K if you add iin "I was black before the election").
BELOW: TOP TEN AND VIDEO
There was some serious talk, too — "unemployment is going to be a serious problem for at least another year" — but he promised that "I'm confident, that over time, we're going to come back stronger than before." Notable in that exchange: He used the phrase "Stay the course." Hard to hear that without noticing.
As usual, it blew up Twitter — Howard Kurtz thought Letterman was too soft on Obama; Mark Knoller tweeted the whole thing out beforehand.
He also talked about Afghanistan ("I'm going to be asking some very hard questions"), the heckling of late ("One of the things you sign up for in politics is folks yell at you") CBS highlights video is below, followed by the Top Ten, as read by Obama; here's the account from the AP, from USA Today, WaPo,

Watch CBS Videos Online

"Top Ten Reasons Why President Obama Agreed To Appear On The Show"
(video here)
10. Heard the lady with the heart-shaped potato was gonna be here.
9. Thought it would be fun to watch someone else get heckled.
8. Something to do with that whole cash for clunkers deal.
7. Every president since Teddy Roosevelt has done it.
6. Someone offers you 600 bucks you take it ladies and gentlemen.
5. We told him Megan Fox would be here.
4. Needed some time to hang out before check in time at his hotel.
3. I have no idea.
2. Said yes, without thinking, like Bush did with Iraq.
1. Wanted to congratulate Dave on the big Emmy win.
If you didn't get the joke, Letterman did not win the Emmy. Jon Stewart — who hosted Bill Clinton last night — did.
One more thing: The David Letterman show is one more thing that Barack Obama has with Megan Fox. Video here.
Related:
Obama Tells Letterman U.S. Should Have Finished The Job In Afghanistan [Mediaite]
Photo by AP's Charles Dharapak
Have a tip we should know? tips@mediaite.com