Obama On Priorities USA Ad: I Don't Believe Romney's Responsible For Death Of Woman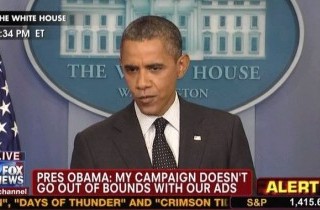 During a Monday afternoon press conference in the White House, President Obama said he doesn't believe Republican presidential nominee Mitt Romney is "somehow responsible" for the death of the woman featured in a controversial Priorities USA ad. The pro-Obama Super PAC's infamous ad suggested that Romney's business practices led to the death of laid-off steelworker's death from cancer.
The president first addressed claims that his campaign has called Romney a felon, saying, "Nobody accused Mr. Romney of being a felon."
"When it comes to releasing taxes," he continued, "that's a precedent that was set decades ago, including by Governor Romney's father. And for us to say that it makes sense to release your tax returns as I did, as John McCain did, as Bill Clinton did, as the two President Bushes did, I don't think is in any way out of bounds."
Asked whether he is comfortable with the tone being set by that particular Super PAC ad, the president said "I don't think that Governor Romney is somehow responsible for the death of the woman that was portrayed in that ad."
"Keep in mind this is an ad that I didn't approve," he continued, "I did not produce and, as far as I can tell, has barely run."
The president then turned the focus onto his opponent's campaign tone: "In contrast, you've got Governor Romney creating, as a centerpiece of his campaign, this notion that we're taking the work requirement out of welfare. Which every single person here who's looked at it says is patently false, right?" he said. "Not only are his Super PACs running millions of dollars worth of ads making this claim, Governor Romney himself is approving this and saying it on the stump."
"So the contrast, I think, is pretty stark," the president concluded.
Watch below, via Fox News:
— —
>> Follow Andrew Kirell (@AndrewKirell) on Twitter
Have a tip we should know? tips@mediaite.com