Obama On Rick Perry: 'You've Got To Be A Little More Careful About What You Say'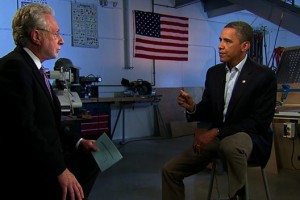 President Obama's current Midwestern bus tour is designed to bring attention to American jobs, though many of his detractors are claiming its real goal is to drum up political support on the government dime (just as every U.S. President before him has done.) The president took time of to sit down with CNN's Wolf Blitzer, who asked the commander-in-chief what he thought of increased political rhetoric of late, particularly from Gov. Rick Perry, who just threw his cowboy hat in the ring.
Some background, Perry has cut a rather unapologetic figure in the GOP race since the weekend, making news for a number of interesting comments — or non-comments as the case might be. When asked by a reporter at a GOP event whether Perry thought that Obama does not love America, Perry replied "you need to ask him." He also made some news when he suggested that Fed Chair Ben Bernanke might in fact be "treasonous" for playing politics by printing money.
So it made sense for Blitzer to open questioning to Obama if Perry's comments were disrespectful. Obama's response?
You know, Mr. Perry just got into the presidential race. I think that everybody who runs for president, it probably takes them a little bit of time before they start realizing that this isn't like running for governor or running for senator or running for Congress, and you've got to be a little more careful about what you say.

But I'll cut him some slack. He's only been at it for a few days now.
Watch the clip below courtesy of CNN:
Have a tip we should know? tips@mediaite.com