Obama on Syria: Use Of Chemical Weapons 'Crosses A Line' But Situation Won't Be 'Solved Overnight'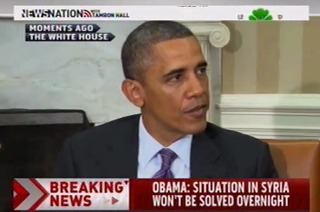 In his first public remarks on the situation in Syria after his administration confirmed that chemical weapons had likely been used in that country's civil war, President Barack Obama said that the confirmed use of weapons of mass destruction "crosses a line." He cautioned, however, that the claims that chemical weapons were used still needs to be confirmed by a variety of sources. Obama also noted that the two-year-old civil war will not be "easily solved overnight."

"Knowing that potentially chemical weapons have been used inside of Syria doesn't tell us when they were used, how they were used," Obama told reporters during a meeting with Jordanian King Abdullah II. He said that the U.S. and the international community would be committing significant resources to confirm that chemical weapons had been used.
RELATED: Defense Secretary Hagel: Syrian Regime Has Used Chemical Weapons
"In many ways, a line's been crossed when we see tens of thousands of innocent people being killed by a regime," Obama continued. "But the use of chemical weapons and the dangers that poses to the international community, to neighbors of Syria, the potential for chemical weapons to get in the hands of terrorists – all of those things add increased urgency to what is already a significant security problem and humanitarian problem in the region."
"I've been very clear publically but also privately that for the Syrian government to utilize chemical weapons on its people crosses a line that will change my calculus on how the United States approaches these issues," he added.
Watch the clip below via MSNBC:
> >Follow Noah Rothman (@NoahCRothman) on Twitter
Have a tip we should know? tips@mediaite.com