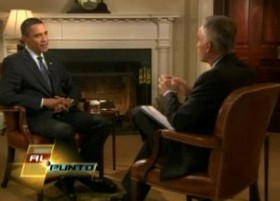 So what did President Obama say to Univisión? It was hard to tell.
As I began to watch the interview he gave to Jorge Ramos, I found myself moving closer and closer to the TV, as if I were deciphering a strange language. The premier Spanish network had made the awful choice of dubbing instead of subtitling the interview.
It took me back to my childhood, watching Hollywood films on Chilean TV on endless school afternoons—suffering because cowboys, pirates, lawyers and superheroes shared the same toothpaste-commercial voices. Later on, my brother and I turned this nonsense into a game: who could name more films or series in which this same overdubbing artist had taken over a famous actor.
But the miseries of being born on the wrong side of English stop being funny when you are trying to understand what the President is saying on relevant matters, and another voice paired with a lousy sound mix make it impossible. (The internet version sounds much better.)
Yet, the problem is not only that sound mixing may be tricky and the dubbing artist may remind you of the Latin American translation of Homer Simpson (which it did). Univisión's choice was regrettable because what makes dubbing movies simply wrong (beautifully explained by Dolores Prida in the Daily News) applies to politics, too: much of what is being said resides in accents, pauses and inflections.
So yesterday I didn't really watch President Obama talk to the millions of Hispanics who regularly tune into Univisión—a historic occasion, indeed.
It was something else. And I hated it.
And this is not to say that the interview wasn't good. Jorge Ramos is a solid interviewer and displayed his skills by asking Obama three times if he had the votes to approve health care reform, pressing him to clarify his stance on health benefits for illegal immigrants; reminding him of the economic cost of forcing immigrants to use emergency rooms; questioning his switch from talking about "undocumented immigrants" to "illegal immigrants;" and reminding him of his promise of immigration reform during his first year in government.
Particularly on the last two topics, Ramos dealt significant blows to Obama: his change of words to refer to illegal immigrants is a sensitive topic among many Hispanics, and his answer (that he was merely replying to the attacks from the right in their own terms) was not convincing; on the latter, it is by now obvious that his promise of immigration reform in 2009 will not be fulfilled.
In other words, Ramos made the President tumble in the eyes of Hispanics.
But it was all lost in translation, and by that point, most of Univisión's audience (who can most likely read subtitles and understand English at the same time) may have switched to another outlet—one in which they could hear their President with their own ears.
This is an opinion piece. The views expressed in this article are those of just the author.