Obama Pressed By Israeli Reporter On Morality Of Allowing Innocents To Be Slaughtered By Syrian Gov't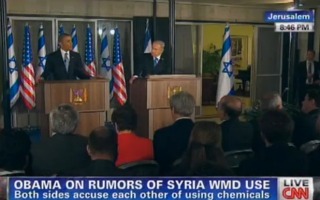 During a joint press conference with Israeli Prime Minister Benjamin Netanyahu, President Barack Obama was asked to clarify the United States' position on the ongoing civil war in Syria. The president was asked by an Israeli reporter to address the moral issue of the slaughter of Syrian innocents in the civil war and whether the reported use of chemical weapons constitutes a violation of the often cited "red line" that would justify military intervention.

RELATED: The GOP Must Not Adopt The Moral Vacuity And Historical Ignorance Of A Libertarian Foreign Policy
"Morally, how is it possible that for the last two years tens of thousands of innocent civilians are being massacred, and no one — the world, united states, you — are doing anything to stop it immediately?" asked a reporter for Israel Channel 2. The reporter also asked if the reports of the use of chemical weapons in Syria crosses the "red lines" that Obama has repeatedly warned about.
"With respect to chemical weapons, we intend to investigate thoroughly exactly what happened," Obama began. "We know the Syrian government has the capacity to carry out chemical weapon attacks."
"I am deeply skeptical of any claim that, in fact, it was the opposition that used chemical weapons," he continued. He said that anyone familiar with the location and accessibility of those weapons would question that claim.
"I have made clear that the use of chemical weapons is a game-changer," Obama said. "I won't make any announcements today about next steps because I think we have to gather the facts. But I think that when you start seeing weapon that can cause potential devastation and mass casualties, and you let that genie out of the bottle, then you are looking potentially at even more horrific scenes that we've already seen in Syria and the international community has to act on that additional information."
"More broadly, as I said in my opening statement, I believe that the Assad regime has lost all credibility and legitimacy," Obama stated. "And I think Assad must go and he will go."
He pushed back on the claim that that the U.S. government has "done nothing." He listed a variety of actions the U.S. government has taken to strengthen the opposition and isolate the regime.
"It's a world problem when tens of thousands of people are slaughtered, including innocent women and children," Obama added. "So, we will continue to work in an international framework to bring about the kind of change that's necessary in Syria."
Watch the clip below via CNN:
> >Follow Noah Rothman (@NoahCRothman) on Twitter
Have a tip we should know? tips@mediaite.com