Obama Pressed On Guantanamo Bay, Says He'll Renew Efforts To Close The Prison: 'It Needs To Stop'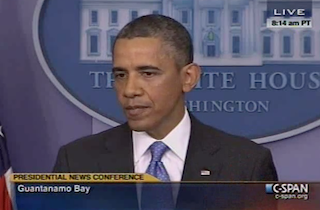 During today's press conference, President Obama took questions from reporters on issues both foreign and domestic. CBS' Bill Plante was among them — and he pressed Obama on the hunger strike at the Guantanamo Bay detention facility. Obama said he plans to revisit the issue, arguing that the prison is not necessary to keep the country safe.
"As you are probably aware," Plante asked, "there's a growing hunger strike at Guantanamo Bay among the prisoners there. Is is any surprise really that they would prefer death rather than have no end in sight to their confinement."
Obama replied that there's no surprise in seeing the problems at Gitmo, echoing his campaign-era belief that we need to close it. "I think it is critical for us to understand that Guantanamo is not necessary to keep America safe," the president asserted. "It is expensive, it is inefficient, it hurts us in terms of our international standing. […] It is a recruitment tool for extremists. It needs to be closed."
Congress didn't "let" him close it, Obama added, informing that he's having his team look into the matter again. Seeking to illustrate the difficulty of tackling the issue, Obama recalled that the the first time Gitmo came up, it was met with demagoguery.
"The idea that we would still maintain, forever, a group of individuals who have not been tried — that is contrary to who we are, that is contrary to our interests, and it needs to stop," he argued. "I'm going to go back at it because I think it's important."
Asked about the force-feeding, Obama replied, "I don't want these individuals to die."
"We will examine every option that we have administratively to try to deal with this issue," he said.
Closing Gitmo, you'll recall, was a 2008 campaign promise touted by Obama — but, since then, has been a source for criticism because that promise has gone unfulfilled.
Take a look, via C-SPAN:

Have a tip we should know? tips@mediaite.com