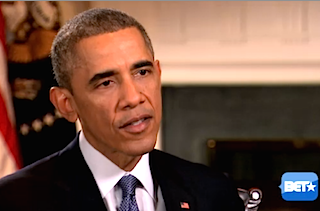 During a rare interview on Fox News Sunday this weekend, Rush Limbaugh had this to say about President Barack Obama's reaction to the police killings in Ferguson and Staten Island: "There's no acknowledgement of any of the progress. If you listen to these people, the president, the mayor of New York, you'd think it was two hundred years ago. You'd think we hadn't even started working on these problems, and that's not true."
Now, in an interview set to air on BET tonight, Obama has specifically addressed that accusation, without mentioning Limbaugh's name of course.
"This isn't something that's going to be solved overnight," Obama said of the racial tensions between African-Americans and police. "This is something that is deeply rooted in our society, it's deeply rooted in our history."
But that being said, he added that "we have made progress," an assertion that directly contradicts Limbaugh's theory. "It's important to recognize that as painful as these incidents are, we can't equate what is happening now to what happened 50 years ago," the president said. "If you talk to your parents, your grandparents, uncles, they'll tell you things are better. Not good, in some cases, but better. And the reason it's important to understand that progress has been made is that it then gives us hope we can make even more progress."
Of course, it appears that Obama taped the BET interview at the same time or earlier than Limbaugh taped his, but it does appear that the president is actively trying to dispel the notion that he reject racial progress. During another interview two weeks ago with ABC News' George Stephanopoulos, Obama made a point to disagree with Rep. John Lewis (D-GA), who drew a parallel between Ferguson and Selma, Alabama.
"You know, I love John, I didn't see the quote, so I don't want to comment on what John specifically said," Obama said at the time. "But I will say this – that the kinds of ongoing problems we have with police and communities of color around the country are not of the sort that we saw in Selma. We're not talking about systematic segregation or discrimination. They are solvable problems if in fact law enforcement officials are open to the kind of training and best practices that we've seen instituted in lot of parts of the country."
Watch video below, via BET:
[Photo via screengrab]
— —
>> Follow Matt Wilstein (@TheMattWilstein) on Twitter
Have a tip we should know? tips@mediaite.com