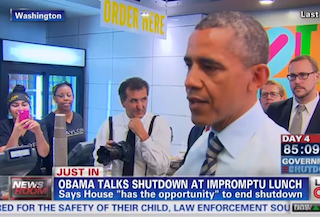 After a long week of non-negotiations over the government shutdown, President Obama and Vice President Joe Biden must have needed to get out of the White House Friday. The two men took a walk down Pennsylvania Avenue to the local Taylor Gourmet sandwich shop where they ordered some lunch to-go and spoke to the press about the ongoing budget battle and an anonymous quote from a "senior administration official" who reportedly said "We are winning" and "It doesn't really matter to us" how long the shutdown lasts.
"Part of the reason we're here is we're starving and the food here is great," Obama began, speaking from the restaurant that has been offering a 10% discount to furloughed federal workers. But he also used the opportunity to explain how he believes the shutdown should end.
"This shutdown could be over today," Obama said. Saying that the votes are there for the House to end it, he added, "If Speaker Boehner will simply allow that vote to take place, we could end this shutdown" and thousands of federal workers will gain the "certainty" that their next paycheck will come on time.
The president said he's "happy to have negotiations with Republicans on a whole range of issues, but we can't do it with a gun held to the head of the American people."
In response to the anonymous comment from a member of his administration, Obama reportedly said, "there's no winning," and "no one is winning" as long as the shutdown continues.
Watch video below, via CNN:
[photo via screengrab]
— —
>> Follow Matt Wilstein (@TheMattWilstein) on Twitter
Have a tip we should know? tips@mediaite.com