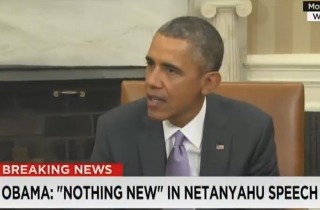 In the Oval Office, President Barack Obama responded to Israeli Prime Minister Benjamin Netanyahu's address to Congress on Tuesday. In comments that lasted about 11 minutes, Obama told reporters he did not watch the speech (he read a transcript of it instead), and that Netanyahu did not offer any "viable alternatives" that would prevent Iran from obtaining a nuclear weapon.
The president began by affirming the bond between the U.S. and Israel and acknowledging the Iranian regime's "venomous anti-Semitic statements." Obama lauded the "extraordinarily effective sanctions regime" constructed by Congress and international allies that Iran has, thus far, largely complied with.
"Keep in mind that when we [inaudible] to that interim deal, Prime Minister Netanyahu made almost the precise same speech about how dangerous that deal was going to be, and yet over a year later, even Israeli intelligence officers — and, in some cases, members of the Israeli government — have to acknowledge that, in fact, it has kept Iran from further pursuing its nuclear program," the president said.
–RELATED: CNN's Christiane Amanpour: Netanyahu Speech Was 'Strangelovian'
Obama said what the prime minister is offering is essentially "no deal," which the president said would cause Iran to accelerate their nuclear program "without constraint." He insisted sanctions alone are not enough to prevent Iran from doing so, and that he would rather have "no deal" than a "bad deal." Obama said if negotiations are successful, the deal would be "by far" the best possible route to prevent Iran from obtaining a nuclear weapon.
"Prime Minister Netanyahu has not offered any kind of viable alternative that would achieve the same verifiable mechanism to prevent Iran from getting a nuclear weapon," the president added.
Earlier, a senior administration official told CNN's Jim Acosta that Netanyahu's speech amounted to "all rhetoric, no action."
Watch Obama's full remarks below, via CNN:
[Image via screengrab]
— —
>>Follow Andrew Desiderio (@froza_desiderio) on Twitter
Have a tip we should know? tips@mediaite.com