Obama Reveals To Entertainment Tonight Details Of His Relationship With George Clooney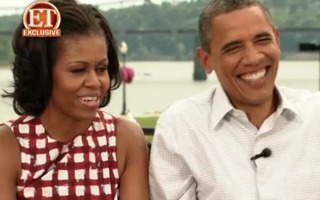 President Barack Obama appeared on Entertainment Tonight where he discussed, among other things, his relationship with actor George Clooney. Obama said that he has a long and fulfilling relationship with Clooney, but they do not spend that much time together because he is aware it could be politically damaging for the President to be seen "hanging out with Hollywood stars."

RELATED: Obama Advisor To CNN: Entertainment Media 'Equally Important' As Political Media
"It's not too bad to be friends with George Clooney, is it," asked Entertainment Tonight host Nancy O'Dell. "He's a nice guy."
"George is a wonderful guy," replied Obama.
"He's cute," said Michelle Obama.
The first lady said that she always seems to be busy when Clooney and the President are together and called it a "conspiracy."
"I will say that, the couple of times he's come to the White House," said Obama, "the staff suddenly…"
"Everybody's there," Michelle Obama interjected.
"He's cute," She said again.
"Do you keep in touch with him," O'Dell asked.
"George is a low maintenance guy, as am I," said Obama. The President went on to say that he got to know Clooney well over the actor's advocacy on behalf of the people of Darfur, Sudan. "He's a good man and a good friend," Obama concluded.
"Can he call you on the cell phone," O'Dell inquired.
"The truth is he doesn't," answered Obama.
"But he could," prodded O'Dell.
"He's very protective about not bothering me," said Obama. The President said that Clooney is cognizant of the fact that if they were seen together often it would be politically damaging for him.
The full interview with President and Mrs. Obama will air on Monday night.
Watch the segment below via Entertainment Tonight:
> >Follow Noah Rothman (@Noah_C_Rothman) on Twitter
Have a tip we should know? tips@mediaite.com