Obama Rips GOP During Financial Collapse Anniversary Speech: 'Are They Really Willing To Hurt People?'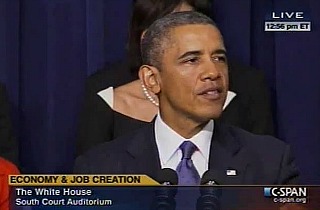 During his address to the media on the five-year anniversary of the collapse of the economy in 2008, President Barack Obama detailed the depth of the crisis and his administration's responses to it. Just as the major cable news networks cut away from the speech to continue coverage of an ongoing mass shooting at the Washington Naval Yard, the president mounted a series of attacks on Republicans in Congress who he alleged are jeopardizing the fragile economic recovery.

"I cannot remember a time when one party promises economic chaos if it cannot get 100 percent of what it wants," Obama said, prefacing the impending battle in Congress over a continuing resolution to fund the government and a subsequent fight over the debt ceiling. "That is what is happening right now."
"You have some Republicans in the House of Representatives are promising to shut down the government of the end of this month if they cannot shut down the Affordable Care Act," Obama continued. "Meanwhile, the law has already helped millions of Americans."
Obama said that there is no evidence to support the claim that the ACA is "holding back economic growth."
"Repealing the Affordable Care Act," Obama said, "That's not an agenda for economic growth."
RELATED: Obama Marks 5 Year Anniversary of Economic Collapse: Always 'My Number One Priority'
"I understand I will never convince some republicans about the merits of Obamacare," he continued. "I understand that, and I am more than willing to work with them where they have specific suggestions that they can show will make the health care system better. Remember, initially this was like repeal and replace the replace thing has gone off to the wayside."
"Are some of these folks really so beholden to one extreme wing of their party that they're willing to tank the entire economy just because they can't get either way on this issue?" Obama asked. "Are they really willing to hurt people just to score political points? I hope not."
Obama pivoted to deficit reduction, and said that his administration has presided over the reduction of deficits. However, to achieve more reduction there needs to be some form of tax and entitlement reforms.
He said he has put forward reforms to both, but he has not received any feedback from Republican leaders on his proposals.
Watch the clip below via C-SPAN:
[Photo via screen grab ]
— —
> >Follow Noah Rothman (@NoahCRothman) on Twitter
Have a tip we should know? tips@mediaite.com