Obama Says Walker Sent Message By Recall, Walker Responds On Fox: Voters Sent Own 'Powerful Message'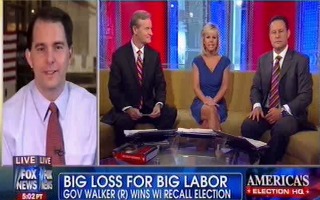 After defeating Milwaukee Mayor Tom Barrett last night with 54 to 46 percent of the vote, Wisconsin Gov. Scott Walker became the first sitting governor to survive a recall election. He appeared on Fox & Friends on Wednesday where he weighed in on a statement from President Barack Obama who wrote "no one can dispute the strong message sent to Governor Walker." Walker said he thought it was "the voters sent the most powerful message."

RELATED: Ed Schultz Reacts To Walker Victory: 'Could Very Well Be Indicted In The Coming Days'
Co-host Gretchen Carlson asked Walker why he thought the race was not nearly as close as many polls and pundits had predicted it would be. She suggested that 33 percent of voters were from union households and, of those, more than a third told exit pollsters they voted for Walker over Barrett.
"I think there's no doubt about it," said Walker. "There are construction workers and others in manufacturing that appreciate that we've turned out state around."
Co-host Brian Kilmeade said when he watched Walker give his victory speech last night, he saw "a happier governor that won the recall as opposed to the one that won the original election."
Walker said he was happier – his family and his kids have been targeted by "bused in" protesters in front of his house and he said he was happy to have that behind him.
"They've been through a lot," said Walker of his family's trials during this period. "I ask for the job. They don't."
Co-host Steve Doocy asked Walker to tell them "the moral of the story" to encapsulate his victory last night. "What we did was inherently about taking on those tough challenges," said Walker. "In doing so, we thought more about that next generation… than just the next election. I think voters rewarded us for that."
"Yesterday's outcome will be historic – I think as people look back – for decades to come," said Carlson.
Carlson read from President Obama's statement about the Wisconsin recall elections. Obama wrote, "no one can dispute the strong message sent to Governor Walker."
"Some people are scratching their heads at that, didn't you send the message," asked Carlson.
"I think the voters sent the most powerful message," said Walker. "We're no longer opponents in this state, we're Wisconsinites. We're going to figure out a way to bring people who voted for me and voted for Tom Barrett tighter to move the state forward."
Walker was asked about Gov. Mitt Romney's chances in the Badger State in the fall, to which Walker responded that the Republicans can be competitive there but they have to tackle the tough questions. Walker also made a suggestion to the Romney campaign to be more like Wisconsin Rep. Paul Ryan:
"We love people like Paul Ryan in Wisconsin because Paul has the courage to tackle these issues at the national level," said Walker. "If Gov. Romney wants to be competitive in Wisconsin, I think he can. He needs to tackle those same issues."
Watch the segment below via Fox News Channel:
Follow Noah Rothman on Twitter
Have a tip we should know? tips@mediaite.com