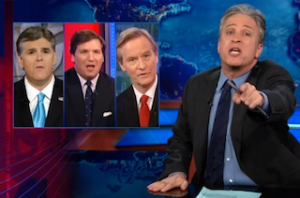 Jon Stewart and Fox News have been in a constant state of war for at least the last decade. But this week, something strange started to happen. After Stewart began taking on President Obama over his series of scandals Monday, Fox hosts started commending him for holding the president accountable. Then, last night, Stewart did the unthinkable: admitted he agreed with Fox pundits.

It only makes sense that a bad week for Obama would be a good week for Fox News. And MSNBC certainly isn't benefiting from their defense of Obama, as our own Joe Concha pointed out in a column today. But it is surprising that The Daily Show is having such a stellar week, in both comedic impact and ratings, because of Obama's troubles, not despite them.
Fox has been dominating its cable news competition in the ratings even more than usual this week, with a slate of highly-energized prime time anchors doing everything they can to hammer the Obama administration on Benghazi talking points, the IRS targeting conservatives and the DOJ seizing AP reporters' phone records. Tuesday night, following one of the most contentious White House press briefings in recent memory, Fox quadrupled both CNN and MSNBC in total viewers.
Meanwhile, as Jon Stewart took a hard turn on his show starting Monday night with relentless criticism of President Obama, his viewership has stayed just as strong as it always is. Averaging 1.5 million total viewers over the last three nights, Stewart's ratings were on par with he has seen over the past several weeks. And if he did turn off any of his primarily liberal audience, judging by the warm reception he's received on Fox News, he may have also picked up some new conservatives followers.
But more important than ratings is the boost Stewart's comedy receives when he's forced to take on issues he may not be entirely comfortable with. Stewart can make fun of Fox News and Republicans all night long, as evidenced by the section of his show Wednesday night that focused on Donald Rumsfeld and Dick Cheney. But when he's forced to–gasp!–say Sean Hannity, Tucker Carlson and Steve Doocy are right, or–even worse–demonstrate why President Obama is wrong, some real hilarious magic happens.
After eight years of George W. Bush, there was a real fear among comedians, particularly of the late night variety, who didn't know how making fun of cool, untouchable Obama was going to work. Over the course of the president's first term, Stewart certainly figured out ways to take Obama down a notch, but nothing has approached the fever pitch of this week's onslaught.
As an open and seemingly proud liberal, Stewart may not enjoy taking on Obama politically, but as a comedian, he seems to be having a hell of a lot of fun.
—
>> Follow Matt Wilstein (@TheMattWilstein) on Twitter
Have a tip we should know? tips@mediaite.com