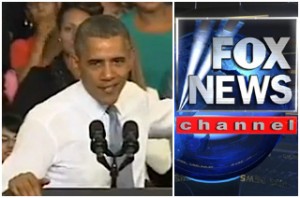 President Obama will likely get the attention of some people over at Fox News after he called out the network by name during his campaign-style speech promoting the Affordable Care Act in Maryland Thursday morning. The president gave some advice to his supporters on what to do when their friends and family members come to them and say how they just saw someone on Fox News saying how "horrible Obamacare is.
"We need you to spread the word," Obama told the cheering crowd. "But, you don't have to take my word for it. If you talked to somebody who said, 'I don't know, I was watching Fox News and they said it's 'horrible,' and you can say, you know what, don't take my word for it." Instead, he said they should simply direct their Fox-watching friends to HealthCare.gov where they can find out for themselves what their new choices will be starting October 1st.
"If you go on the website and it turns out you're going to save $100, $200, $300 a month on your insurance, or you'll be able to buy insurance for the first time," Obama said, "even if you didn't vote for me, I'll bet you'll sign up for that health care plan."
Interestingly enough, the one cable news network the president mentioned in his speech did not actually carry the event live. CNN and MSNBC showed Obama's speech in full, while Fox played the first few minutes before moving on to coverage of the terror attack in Kenya and the Montana judge who sentenced a child rapist to 30 days in prison.
Watch video below, via Fox News:
[photo via screengrab]
— —
>> Follow Matt Wilstein (@TheMattWilstein) on Twitter
Have a tip we should know? tips@mediaite.com