Obama Slams States' Anti-Abortion Efforts, Reassures: 'Planned Parenthood Is Not Going Anywhere'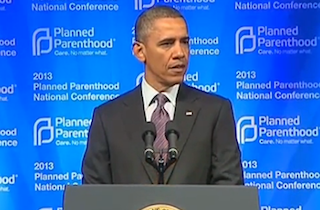 On Friday President Obama, becoming the first sitting president to do so, addressed Planned Parenthood at a gala held by the organization in Washington, D.C. Speaking about women's rights, Obama criticized states that have sought to impose more restrictions on abortion. He reassured them, "Planned Parenthood is not going anywhere."
"When you read about some of these laws, you want to check the calendar, you want to make sure you're still living in 2013," Obama argued, highlighting some "absurd" and "wrong" moves taken by states:
"In North Dakota, they passed a law that outlaws your right to choose starting as early as six weeks, even if a woman is raped. A woman may not even know she's pregnant at six weeks. In Mississippi, a ballot initiative was put forward that would not only outlaw your right to choose, but could have had all sorts of other far-reaching consequences, like cutting off fertility treatments and making certain forms of contraception a crime. That's absurd, it's wrong, it's an assault on women's rights."
Even Mississippi, a "conservative state," turned it down, he noted.
The president reaffirmed his belief that "women should be able to make their own decisions about their own health," adding that "you've also got a president who will be right there with you, fighting every step of the way."
Getting political, Obama told the crowd that when politicians "try to turn Planned Parenthood into a punching bag, "they're talking about telling many of those women, you're on your own. They're talking about shutting those women out at a time when they may need it most."
"No matter how great the challenge, no matter how fierce the opposition, there's one thing the past few years have shown us, and that's: Planned Parenthood is not going anywhere," the president asserted. "It's not going anywhere today, it's not going anywhere tomorrow."
Obama was originally slated to address the organization on Thursday night, but the speech was rescheduled to allow the president and first lady to attend a memorial service in West, Texas (following the recent fertilizer plant explosion).
Take a look, via C-SPAN:
Have a tip we should know? tips@mediaite.com