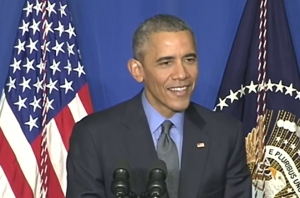 While giving a press conference in Paris, President Barack Obama told reporters that the mass shootings that plague the United States just never happen in other countries.
"With respect to Planned Parenthood, obviously, my heart goes out to the families of those impacted," Obama said in response to a reporter's question. "I mean, I say this every time we've got one of these mass shootings; this just doesn't happen in other countries."
For those living under a rock, the city of Paris itself was just hit with a series of simultaneous terrorist attacks. The majority of 130 deaths were in mass shooting attacks, where the ISIS-affiliated terrorists attacked public places with automatic rifles. Nearly one hundred people alone were killed in just one mass shooting at the Bataclan theater.
Earlier this year, Paris was also the victim of a terrorist attack targeting the satirical magazine Charlie Hebdo. The al-Qaeda-affiliated terrorists wielded assault rifles, killing 11 innocent people.
Obama, to his credit, seemed to realize what he had just said. After a deliberate pause, he suddenly pivoted to an explanation about how the United States was aiding France in the fight against terrorism:
"You know, we are rightly determined to prevent terrorist attacks wherever they occur, whether in the United States or with friends and allies like France. And we devote enormous resources… to rooting out networks and debilitating organizations like ISIL and maintaining the intelligence and improving the information sharing that can identify those who would try to kill innocent people."
[Image via screengrab]
——
>>Follow Alex Griswold (@HashtagGriswold) on Twitter
This is an opinion piece. The views expressed in this article are those of just the author.