Obama Speaks On Fiscal Cliff: 'There Wasn't Enough Support Or Time' For A Better Deal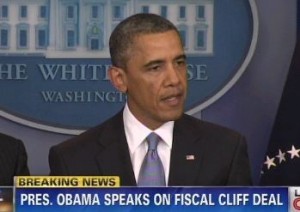 Shortly after the House of Representatives passed the fiscal cliff deal worked out last night in the Senate, President Obama spoke in reaction to the bill's passage. He admitted it was not the exact deal he wanted to work out with Republicans, but he said it is good enough for now. The president also issued a warning to Republicans that he does not want to have to rehash the same old debates over the debt ceiling two months from now.
RELATED: Obama Urges House To Pass Fiscal Cliff Deal 'Without Delay': It's 'The Right Thing To Do For Our Country'
Obama opened by explaining that much of what was settled in the compromise bill, including making the wealthiest Americans pay more in taxes, was what he campaigned on in his reelection race. He thanked House and Senate leaders, while singling out the work done by Vice President Joe Biden, who stood beside Obama during his speech.
The president laid out point-by-point what the fiscal cliff compromise means for average Americans, while acknowledging that "the deficit is still too high" and still investing too little. Obama said he tried to negotiate a better agreement with John Boehner, but "there wasn't enough support or time" for that.
Obama laid out the goals for where the conversation needs to go from this point. He said that Congress now needs to work on automatic spending cuts after delaying for 2 months. The president made it clear he is "very open to compromise" on Medicare reform and cutting wasteful spending.
But he particularly emphasized that he is not interested in having the same debate with Congress over the debt ceiling, which the United States will hit in two months, that the White House fought with Congress over a year ago. Obama ended his address with a call for Congress to put aside partisan differences and continue working on the nation's problems with "less drama" in the future.
Watch the video of Obama's address below, courtesy of CNN:
—–
Follow Josh Feldman on Twitter: @feldmaniac
Have a tip we should know? tips@mediaite.com
Josh Feldman - Senior Editor