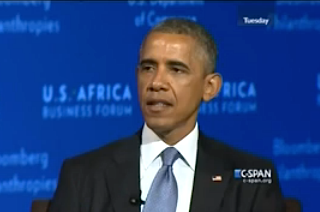 Since he's been in office, President Barack Obama has shown only modest support for preserving an open internet through the existing system known as net neutrality. But during a Q&A session at a summit for African leaders in Washington, D.C. Wednesday, the president expressed his strongest support yet on the issue, saying it is his administration's position that there should not be a so-called fast lane for those who are willing to pay more for access to internet consumers.
As Obama described it, the controversy surrounding net neutrality concerns "whether you are creating different rates or charges for different content providers." For example, he cited a company that may want to pay for more bandwidth in order to stream movies to their customers faster than a competitor with less capital could.
"And I personally — the position of my administration, as well as I think a lot of companies here is you don't want to start getting a differentiation in how accessible the internet is to various users," Obama said. "You want to leave it open so that the next Google or the next Facebook can succeed."
RELATED: John Oliver Wants the Worst Internet Trolls to Lobby the FCC for Net Neutrality
The president also issued a warning to other countries that "feel comfortable with the idea of controlling and censoring Internet content." He said "that not only is going to inhibit entrepreneurs who are creating value on the internet" but it is "also going to inhibit the growth of the country generally, because closed societies that are not open to new ideas, eventually they fall behind."
"Eventually, they miss out on the future because they're so locked into trying to maintain the past," Obama concluded.
While Obama spoke out more forcefully in defense of net neutrality during his first presidential campaign in 2008, the FCC chairman he appointed, Tom Wheeler, has shown some willingness to abandon the net neutrality principle and allow fast lanes to be introduced. While Wheeler has said an internet fast lane would be "commercially unreasonable," he has also proposed new rules that would allow them to exist in certain scenarios.
Watch video below, via C-SPAN:
[Photo via screengrab]
— —
>> Follow Matt Wilstein (@TheMattWilstein) on Twitter
Have a tip we should know? tips@mediaite.com