Obama Stumbles Through Surprise Shinseki Question on Live with Kelly and Michael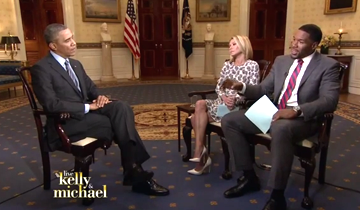 The last place anyone really wants to get a serious political question is on Live with Kelly and Michael, and part of us thinks that Barack Obama went on the morning talk show yesterday to do a pre-taped interview, hoping probably for some fluffy emergency PR — hold a baby tiger, talk about his marriage, spin a wheel, etc.
But Michael Strahan, a former NFL player whose father also happens to be a retired major, decided to throw in a surprise question about the VA hospital scandal: "There's been calls for the resignations, and [VA Secretary Eric] Shinseki says he's not going to resign. Do you think that he should, and if he doesn't, would you be inclined to remove him?"
(How do we know it was a "surprise" question? Well, the other teaser videos released are titled: "President Obama talks about his Gray Hair" and "President Obama talks about Malia's Prom," and he's on a fluffy daytime talk show, so… we're just going to guess here.)
It takes two-and-a-half minutes for Obama to actually answer the question, and one can actually watch him try to cobble together a coherent statement about what he's going to do with Shinseki. Somewhere, you can actually watch him desperately wish that Kelly Ripa asked him to hold a tiger.
And then Obama got Eric Shinseki to resign this morning, so we guess it worked. So by extension, Michael Strahan helped solve America. Whoda thunk?!
Watch below, via ABC:

[Image via screenshot]
—
>> Follow Tina Nguyen (@Tina_Nguyen) on Twitter
Have a tip we should know? tips@mediaite.com