Obama Supporters To Megyn Kelly: Obama 'Did Not Misspeak, Was Misunderstood' On SCOTUS Comments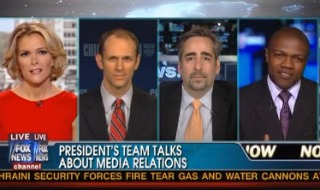 As discussion within the media swirls around recent remarks President Barack Obama made about the Supreme Court ("Ultimately, I'm confident that the Supreme Court will not take what would be an unprecedented, extraordinary step of overturning a law that was passed by a strong majority of a democratically-elected Congress"), the White House has come forward in defense of the commander-in-chief.
Yesterday, CBS reporter Bill Plante confronted White House press secretary Jay Carney on the issue, telling him that he was "standing up there twisting yourself in knots because he made a mistake, and you can't admit it." Nonetheless, they maintain that the President had not misspoken; he's simply been misunderstood.
RELATED: CBS Reporter Confronts Jay Carney: Obama 'Made A Mistake, And You Can't Admit It'
Host Megyn Kelly asked Austan Goolsbee, former chair of the Council of Economic Advisers, whether President Obama was becoming frustrated with the media.
"You know, probably a little bit," he said. "I think that the way he just described that about the budget… doesn't feel inaccurate to me. I mean, I've largely chalked that up to, maybe, a lot of the political reporters looking at these budgetary issues. It's too technical; they don't know the details or the history."
Fellow guest Corey Ealons, the President's former deputy press secretary, weighed in saying that he thinks "this White House has been very direct in communicating to members of the media when they believe they've gotten a story wrong, and I think it's very much a part of their responsibilities as the communications staff for the President to ensure that when his message goes forth to the American people, that's it done so with the full clarity, intent and meaning that the President intends it to be."
Left-Action founder John Hlinko found the attention being given to his Supreme Court comment as a "bit of a distraction." He took particular issue with Supreme Court Justice Antonin Scalia having trashed the health care law without having read it, prompting Kelly to point out that it's not as if the members of Congress who passed it read the entire thing either.
The panel and host did all agree, though, on one thing: They'd sure as hell love to win the lottery.
Check it out, via Fox News:
Have a tip we should know? [email protected]