Obama Surrogate On Leaked Romney Video: He 'Feels That If You're Not A Part Of His Social Class… You're A Parasite'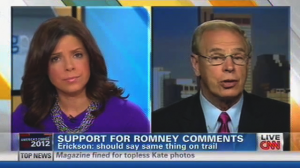 Former Ohio governor Ted Strickland appeared on CNN's Starting Point this morning to pile on the criticism of Mitt Romney over a video leaked yesterday in which the Republican candidate said that 47 percent of Americans would never support him because they are "dependent upon government." Strickland argued that Romney's candid comments show that he views anyone outside of his economic class as "parasite" on the system.
RELATED: Soledad O'Brien Battles Bay Buchanan Over A Number Of Romney's Controversial Statements
Soledad O'Brien asked Strickland if the Romney video was just a distraction from having a serious conversation about the economy. Strickland argued that Romney's comments were "significant" because they showed the GOP candidate has a disdain for "about half of the American people." O'Brien noted that Romney defended his comments last night by saying he was referring to the Americans who do not pay taxes.
Even with that qualifier, Strickland still thought it was still a damaging moment for the Republican presidential candidate.
"He's very sly. People who don't pay income taxes, That's what he said, income taxes. Many people don't pay income taxes because they're so poor. They don't make enough money to be able to pay income taxes, but they pay payroll taxes. They pay state taxes. They pay excise taxes. I mean, this man apparently feels if you're not part of his social class or his economic – you don't have his economic status that somehow you're a parasite."
Strickland brought up Romney's refusal to release more years of his tax returns, and said he couldn't imagine any positive spin the Republicans could give to their candidate speaking in such a way about 47 percent of Americans in a room full of "really wealthy people."
O'Brien brought up President Obama's now-infamous remarks about people who "cling to their guns and religion," and reminded Strickland that he defended Obama at the time by saying "he didn't really mean it." Strickland argued that Obama's remarks were about him trying to reach out to those people, whereas Romney's comments made it clear he doesn't want to
Watch the video below, courtesy of CNN:
h/t The Hill
—–
Follow Josh Feldman on Twitter: @feldmaniac
Have a tip we should know? tips@mediaite.com
Josh Feldman - Senior Editor