Obama Takes Shots At Romney In First Post-Debate Speech: 'That Was Not The Real Mitt Romney'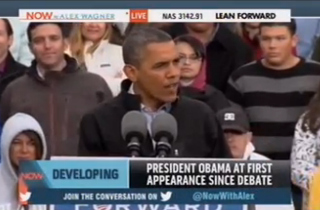 The morning after the first presidential debate, President Barack Obama was back on the campaign trail speaking at a rally in the frigid Colorado weather. He opened his speech by going after Republican opponent Mitt Romney, blasting the candidate for not being "the real Mitt Romney" by contradicting his own campaign beliefs while on stage last night.
"It couldn't have been Mitt Romney because the real Mitt Romney has been running around the country for the last year promising $5 trillion in tax cuts in favor of the wealthy," said the president. "The fellow on stage last night said he didn't know anything about that."
He continued: "The real Mitt Romney said we don't need any more teachers in our classrooms. but — don't boo, vote — the fellow on stage last night, he loves teachers. Can't get enough of them."
The president also hit at Romney for saying on stage Wednesday night that he hadn't heard of tax breaks for companies that outsource jobs, despite being known as a "pioneer" of companies that have outsourced in the past. "He said, if it's true, he must need a new accountant. Now we know for sure it was not the real Mitt Romney because he seem to be doing just fine with his current accountant," quipped Obama.
"The man on stage last night he does not want to be held accountable for the real Mitt Romney's decisions and what he's been saying for the last year. And that's because he knows full well that we don't want what he's been selling for the last year," he said before continuing on to explain what he believes the "truth" is about all of Romney's positions.
Watch below, via MSNBC:
— —
>> Follow Andrew Kirell (@AndrewKirell) on Twitter
Have a tip we should know? tips@mediaite.com