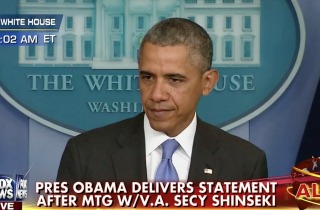 On Wednesday, President Barack Obama spoke with members of the press after meeting with his staff on how they plan to address the scandal involving the hiding of wait times veterans faced at VA hospitals. The president expressed his anger over that situation, but he urged the public to wait for a full investigation before taking steps to address the problems at the Department of Veterans Affairs.

"When I hear allegations of misconduct," Obama said, "I will not stand for it. Not as commander-in-chief, but also not as an American."
"If these allegations prove to be true, it is dishonorable, it is disgraceful, and I will not tolerate it. Period," he added.
Obama said that he has commissioned multiple investigations into the allegations that multiple hospitals intentionally hid the true waiting times for care, reportedly resulting in deaths for some veterans. "I know that people are angry and want swift reckoning. I sympathize with that," Obama said. "But we have to let our investigators do their job and get to the bottom of what happened."
Obama added that his administration has worked "very hard" on addressing the problems associated with the VA since they took office in 2009.
Obama closed by noting the progress his administration has made in improving veterans' access to care, reducing veteran homelessness, and preparing them for transitions back into the private sector.
Obama added that the problem associated with the VA is and issue he has been working on since his first campaign for U.S. Senate in 2004. "Taking care of veterans and their families has been one of the causes of my presidency," Obama said.
When asked why the VA's problems were "allowed to get to this stage," leading to reported deaths of veterans who waited for care, Obama said that the investigation needs to be completed first. He added that the government should focus on "realistically" reducing wait times.
He added that the VA takes 85 million appointments over the course of a year. "That means we have to have a system that is built in order to be able to take those folks in a smooth fashion, they know what to expect, and it's reliable."
When Obama was asked about the fate of VA Sec. Eric Shinseki, Obama praised his performance and noted that he is also a wounded veteran. "I want to see what the results of these reports are, and there is going to be accountability," Obama said.
Pressed on whether anyone would resign from his administration over this scandal, Obama said he does not "yet know how systematic this is."
"If somebody's engaged in mismanagement or misconduct," Obama said, "Not only do I not want them getting bonus, I want them punished."
Watch the press conference below, via Fox:
[Image via screengrab]
— —
>> Follow Noah Rothman (@NoahCRothman) on Twitter
Have a tip we should know? [email protected]