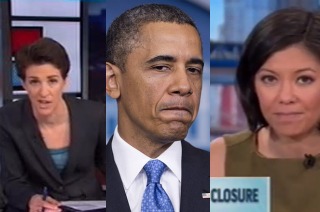 Time and again, President Barack Obama has demonstrated that his opponents underestimate his political acumen at their own peril. The president is nothing if not calculating. Which is why it is not entirely clear, when asked at a Tuesday press conference about an ongoing hunger strike among the inmates at the Guantanamo Bay prison facility, why Obama took the opportunity to reiterate his nearly 6-year-old pledge to close the controversial facility. Gitmo, as it is referred to, is an issue that resonates almost exclusively on the left. While, according to opinion polling, the prison facility is broadly popular, its continued operation remains a spot of contention within the president's liberal coalition. By not simply dismissing the issue of Guantanamo, the president has created a rift between his center-left supporters and the progressive wing of the Democratic Party.

While there has been no regular public opinion polling on Guantanamo bay in more than a year, the polling on the issue of the prison facility has consistently showed a trend towards acceptance of the facility over the course of Obama's first term.
According to a Washington Post poll released on February 4, 2012, 70 percent of respondents either "strongly" or "somewhat" approved of the policy of keeping the prison facility open. Only 24 percent expressed disapproval. The Post revealed that 67 percent of self-described "moderate" or "conservative Democrats" approved of keeping the prison facility open, while 53 percent of self-identified "liberal Democrats" also supported keeping Guantanamo Bay operating.
This is the culmination of a trend towards acceptance of the Guantanamo Bay facility after it hit its nadir of popularity in 2008-2009. This unpopularity is partially attributable to the fact that opposing the facility's continued operation was a litmus test for presidential candidates during the 2008 Democratic primary cycle.
A CNN/ORC poll released on March 29, 2010, showed that support for closing the Guantanamo Bay prison facility had dropped 12 points over the course of 14 months. A CNN/ORC poll taken just prior to Obama's first inauguration showed that 51 percent of adults said that the prison should be closed. In 2010, that number had shrunk to 39 percent.
Democrats surveyed in the 2010 CNN/ORC poll still agreed that the prison should close but self-identified independents had flipped. Three quarters of surveyed independents in 2010 said that the facility should remain open whereas a majority had favored shuttering it in early 2009.
Given recent events, including a successful terror attack on U.S. soil, it is unlikely that public opinion has shifted in the last year in favor of those who advocate for closing the facility.
Following the release of the Post poll, the New York Times' Andrew Rosenthal savaged the public's utter lack of regard for the preeminent human rights issue of our time. "It shows how soon we, as a nation, forget," Rosenthal writes. "Or rather, it shows that we have a distressingly short attention span, and that we allow ourselves to accept outrages so long as they're familiar."
Guantanamo Bay really is an outrage. The prison camp put a stain on this country's global reputation as a defender of human rights. It has, over its notorious history, housed far too many people who did nothing wrong or committed truly minor offenses.
Rosenthal is joined a year later by the more left-leaning hosts of MSNBC who have devoted a significant amount of programming time in the last 24 hours to reinvigorating opposition among progressives to the continued existence of the Guantanamo Bay prison.
On Tuesday, MSNBC host Rachel Maddow performed a lengthy interview with The Miami Herald's Carol Rosenberg who described what she deemed inhumane conditions within the prison. She noted that prisoners are often kept one man to a cell with no more than two hours recreation time — or none at all if the prisoners refuse it. Rosenberg said that, in the past, a "dorm room atmosphere" prevailed in Guantanamo, but today that facility is on virtual 24-hour lockdown.
Maddow was joined by MSNBC host Alex Wagner and her panel guests on Wednesday who noted that detainee transfers out of Gitmo has slowed to zero thus far in 2013, down from four last year. New York Times reporter Charlie Savage reported that Congress halted the transfer of detainees to countries with dangerous conditions in 2011, reducing the Obama administration's ability to transfer those prisoners out of the facility.
Wagner's panel expressed vexation with the Obama administration's inaction. National Journal's Ron Fournier wondered why the GOP and its base voters oppose the transfer of Gitmo prisoners onto U.S. soil but, given polling data cited above, this position is hardly a political liability. The rest of her panel guests, while understanding that the president had other priorities during his first term, could not muster a strong defense of Obama's failure to close the facility.
The president's left flank has been frustrated by his reminding them that he balked at a campaign promise to close the relic of Bush-era counterterror policy. Obama spends so much of his time rallying his progressive base to support what he hopes will be his legacy achievements, including new gun control laws, raising tax rates, and immigration reform. But the president may have undercut his own support among his base by recounting how he failed them on the issue of the controversial prison facility.
What is clear from the last 24 hours of reporting on left-leaning news outlets, Obama's supporters in the media no longer trust him. While this condition is limited to a single issue today, mistrust can quickly become chronic and come to characterize the president's caricature in the media and in popular culture. This is a dangerous place for a lame-duck president, with legacy accomplishments yet unsecured, to be.
> >Follow Noah Rothman (@NoahCRothman) on Twitter
Have a tip we should know? tips@mediaite.com