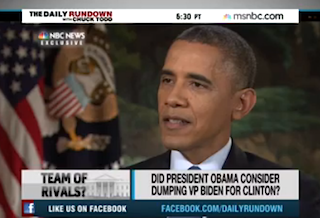 Towards the end of his exclusive interview with President Obama that mostly covered the rollout of the Affordable Care Act, Chuck Todd brought up one of the "biggest bombshells" from Mark Halperin and John Heilemann''s new book Double Down
about the 2012 presidential campaign. Todd asked Obama how he could not have known that he team was floating then Secretary of State Hillary Clinton as a replacement for Vice President Joe Biden.
"I am in charge of two million people in the federal government," Obama told Todd. "And that was true, by the way, even when I was running for president. So people do all kinds of stuff." He explained that he's not "somebody who delves into polling" and "data" and therefore it would have made sense to his political team to test out the swap without his knowledge.
That being said, Obama added, "If they had asked me, I would have said there is no way that I'm not running again with Joe Biden. Because I genuinely believe that he has been one of the best vice presidents in our history. He also happens to be a friend. He also happens to be one of my most important advisors on domestic foreign policy. I like him. When my back's up against the wall, he has my back."
The president got in a dig at Halperin and Heilemann, as well as This Town
author Mark Leibovich, by saying, "I've now been in this town long enough to know that folks like to seem important by getting their version of events in the press–or books or what have you. And, you know, that's just kind of part of the atmosphere that you live in."
Watch video below, via MSNBC:
[photo via screengrab]
— —
>> Follow Matt Wilstein (@TheMattWilstein) on Twitter
Have a tip we should know? [email protected]