President Obama To ABC News: 'Fundamentals' Of The Election Still Favor Me, Despite Poor Debate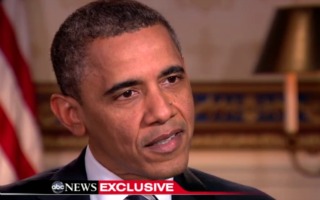 In a one-on-one interview with ABC News' Diane Sawyer, President Barack Obama sat down for his first post-debate television interview. In a preview of that interview, which will air in its entirety on ABC at 6:30 p.m. ET, President Obama candidly discusses the debate and his electoral prospects after his lackluster showing. Obama said that the "fundamentals of what this race is about" have not changed and still favor him over former Massachusetts Gov. Mitt Romney.

The president did not sugar coat his debate performance. When asked about it, Obama said his debate against Romney was a "bad night."
"Governor Romney had a good night. I had a bad night. It's not the first time I've had a bad night," Obama said.
"What's important is the fundamentals of what this race is about haven't changed," the president said. "You know, Governor Romney went to a lot of trouble to try to hide what his positions are."
Sawyer asked the president about Romney's interview with the Des Moines Register editorial board in which Romney said that he had no plans to support any present legislation relating to abortion rights.
"This is another example of Governor Romney hiding positions he's been campaigning on for a year and a half," Obama said.
"Is it a lie," Sawyer asked.
"No, I actually think — when it comes to women's rights to control their own health care decisions, you know, what he has been saying is exactly what he believes," the president replied. He said he believes Romney "thinks that it is appropriate for politicians to inject themselves in those decisions."
Watch a preview of the interview below via ABC News:
h/t ABC News
> >Follow Noah Rothman (@Noah_C_Rothman) on Twitter
Have a tip we should know? tips@mediaite.com