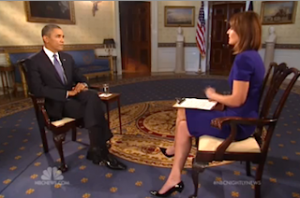 During the portion of his interview with the Today Show's Savannah Guthrie that aired during the NBC Nightly News Monday evening, President Obama admitted that congressional approval on his proposed Syria strikes is looking more and more like a long shot. "I wouldn't say I'm confident," Obama told Guthrie when asked if thought the votes would go his way.
"If this resolution fails in Congress, would you act without Congress?" Guthrie asked, gently trying to "pin" Obama down on how he will react to a rebuke from the Senate and/or House.
"I think it's fair to say that I haven't decided," the president replied. "I am taking this vote in Congress and what the American people are saying very seriously. I knew by bringing this to Congress that there was a risk that the American people– you know, just could not arrive at a consensus around even a limited strike."
Alluding to polls that show Americans strongly against intervention, Obama said that when you pose the question "Do we want to be involved in another war?"–even to his wife Michelle–"the answer is no." He also referenced the Iraq War as a source of Americans' wariness.
Only after Congress debates and he speaks to the American people Tuesday night, will Obama decide "whether or not we feel strongly enough about this that we're willing to move forward." The president added, "I've made my decision about what I think is best for America's national interests, but this is one where I think it's important for me to play close attention to what Congress and the American people say."
One thing Obama said he could be "confident" about is "that the members of Congress are taking this issue very seriously, and they're doing their homework, and I appreciate that."
Watch video below, via NBC News:
[photo via screengrab]
— —
>> Follow Matt Wilstein (@TheMattWilstein) on Twitter
Have a tip we should know? tips@mediaite.com