Obama to Send 300 Military Advisors to Iraq, Maintains No 'Return to Combat'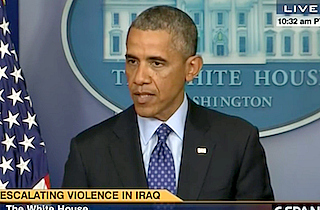 President Barack Obama addressed the deteriorating security situation in Iraq Thursday afternoon, announcing that he was prepared to send up to 300 military advisors to establish joint command centers in Baghdad and Northern Iraq, while maintaining that the U.S. would not be reengaging in combat in the country.
"American forces will not be returning to combat in Iraq," Obama said. "But we will help Iraqis take the fight to terrorists who threaten the Iraqi people, the region, and American interests as well."
"Because of our increased intelligence resources we're developing more information about potential targets associated with ISIL," Obama said. "Going forward we'll be prepared to take targeted and precise military action if and when we determine the situation on the ground requires it. If we do, I will consult closely to Congress and leaders in Iraq and in the region. I want to emphasize, though, that the best and most effective response to a threat like ISIL will ultimately involve partnerships where local forces like Iraqis take the lead."
RELATED: Fmr. U.S. Ambassador to Iraq: 'Kerry Should Be on a Plane for Baghdad'
In addition to the advisors, Obama promised additional equipment and increased intelligence and surveillance operations, and dispatched Secretary John Kerry to the Middle East to shore up support among American allies with interests in the region.
Obama stopped short of calling for Iraqi Prime Minister Nouri al-Maliki to step down but arguing for a more inclusive Iraqi government that would ease sectarian tensions. "Iraqi leaders must rise above their differences and come together around a political plan for Iraq's future," he said. "The U.S. will not pursue military options that support one sect over another. There is no military solution inside of Iraq, certainly not one that is led by the Untied States."
Watch the clip below, via C-SPAN:
[Image via screengrab]
——
>> Follow Evan McMurry (@evanmcmurry) on Twitter
Have a tip we should know? tips@mediaite.com