Obama to Stephanopoulos: 'This Isn't the Cold War,' I 'Welcome' Putin's Involvement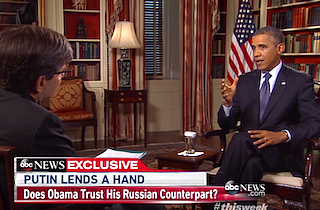 In an exclusive interview with ABC's This Week With George Stephanopoulos, President Barack Obama said he was confident in the deal struck this weekend to remove chemical weapons from Syria's control, and maintained a "trust but verify" attitude toward Vladimir Putin's involvement in the process of securing and destroying the weapons.
"The distance that we've traveled over the past couple of weeks has been remarkable," Obama said, noting that Putin and Syrian President Bashar al-Assad had gone from denying any knowledge of chemical weapons attacks to agreeing to destroy them. "And the United States' position has been consistent throughout."
"Nobody around the world takes seriously that the rebels were the perpetrators of this attack," Obama said in response to Putin's New York Times op-ed containing that charge. "There are radical elements in the opposition, including folks that are affiliated with al Qaeda, who, if they got their hands on chemical weapons, would have no compunction using them in Syria or outside of Syria. Part of the reason we've been so concerned about this chemical weapon issue is we don't want those folks getting chemical weapons any more than we want Assad to have chemical weapons, so the best solution is to get them out of there."
"I don't think Mr. Putin has the same values that we do," Obama said. "Obviously by protecting Mr. Assad, he has a different attitude about the Assad regime. But what I've said to him, directly: we both have an interest in preventing chaos, we both have an interest in preventing terrorism. The situation in Syria right now is untenable. As long as Mr. Assad is in power, there's going to be some sort of conflict there."
RELATED: Obama Defends Syria Policy: Unlike Iraq War, We Don't 'Grade on Style'
Obama added that the U.S. and Russia worked together on a whole range of issues, including counterterrorism operations and troop transports in Afghanistan, and saw no reason the two countries could not find mutual ground on the destruction of Assad's weapons, even if their other regional interests conflicted.
"This is not the Cold War," Obama said. "This is not a contest between the United States and Russia. If Russia wants to have some influence in Syria post-Assad, that doesn't hurt our interests…I welcome [Putin] being involved. I welcome him saying I will take responsibility for pushing my client, the Assad regime, for dealing with these chemical weapons."
Watch the full clip below, via ABC News:
[Image via screengrab]
——
>> Follow Evan McMurry (@evanmcmurry) on Twitter
Have a tip we should know? tips@mediaite.com