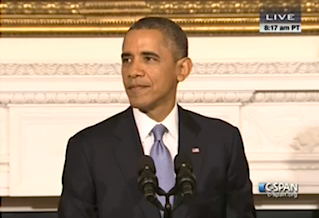 President Obama delivered a hard rebuke to the tea party members of Congress who led the fight to bring Washington to a standstill during a speech Thursday morning to mark the end of the government shutdown. Without mentioning any specific lawmakers, such as Sen. Ted Cruz (R-TX) by name, the president urged his current and future opposition to advocate "change" in policies with which they do not agree, without "breaking" the U.S. government.
Obama acknowledged that Democrats and Republicans will not suddenly agree on every issue. "I recognize there are folks on the other side who think that my policies are misguided," he said. "That's putting it mildly. That's OK. That's democracy." But he said those differences must be debated in "good faith" through "the normal democratic process." Just because "the extremes in our party don't like the word compromise," Obama said, we should not "fail to act on areas where we do agree."
The president said one of the lessons over these last two weeks is that "effective government" is important. Listing off the various ways in which government helps ordinary citizens, Obama said, "Let's work together to make government work better. Instead of treating it like an enemy or purposely making it work worse. That's not what the founders of this nation envisioned when they gave us the gift of self-government."
"You don't like a particular policy or a particular president, then argue for your position," he continued. "Go out there and win an election. Push to change it, but don't break it. Don't break what our predecessors spent over two centuries building. That's not being faithful to what this country's about."
With the 2014 midterm election now just a little more than a year away and the 2016 presidential election after that, Republicans will have that chance to "go out there and win an election" in order to affect change on policies like the Affordable Care Act that they were willing to shut down the government in order to disrupt. Whether their political brand has been too badly damaged by the fight over the budget and debt ceiling is yet to be seen.
Watch video below, via C-SPAN:
[photo via screengrab]
— —
>> Follow Matt Wilstein (@TheMattWilstein) on Twitter
Have a tip we should know? tips@mediaite.com