Obama to West Point: You Might Be First Post-9/11 Grads to Not Go to Iraq or Afghanistan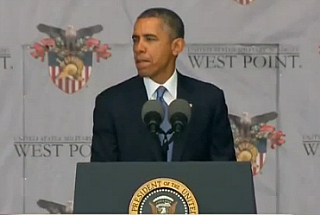 One of the more evocative moments from President Obama's Wednesday morning speech before West Point cadets was his noting that this may be the first post-9/11 graduating class to not be sent into combat in either of America's two ongoing major conflicts.
"This is a particularly useful time for America to reflect on those who sacrificed so much for our freedom," Obama told the graduates. "You are the first class to graduate since 9/11 who may not be sent into combat in Iraq or Afghanistan."
That remark drew applause from the crowd.
"When I first spoke at West Point in 2009, we had more than a 100,000 troops in Iraq and we were preparing to surge in Afghanistan," he continued. "Our counterterrorism efforts were focused on al Qaeda's core leadership; those who carried out the 9/11 attacks. And our nation was beginning the climb out of the biggest decline since the Depression. Four-and-a-half years later, as you graduate, the landscape has changed."
He then laid out how he believes these graduates will see a different foreign policy climate than their predecessors:
We have removed our troops from Iraq, we are winding down the war in Afghanistan. Al Qaeda's leadership on the border region between Afghanistan and Pakistan has been decimated and [Osama] Bin Laden is no more. And we invested in the key strength of America: the growing economy that can provide for everybody willing to work hard and take responsibility at home. By most measures, America has rarely been stronger relative to the rest of the world. Those who argue otherwise, or suggest America is in decline or is seeing its global leadership slip away, are misreading history or engaged in partisan politics. Think about it: Our military has no peer. The odds of a direct threat against us by any nation are low and do not come close to the dangers we faced during the Cold War. […] The values of our founding inspire leaders in parliaments and new movements in public squares around the globe. And when a typhoon hits the Philippines, or girls are kidnapped in Nigeria, or a plane is hijacked, it is America the world looks it to for help.
He added: "The United States is and remains the one indispensable nation."
Watch the clip below, via Fox:
— —
>> Follow Andrew Kirell (@AndrewKirell) on Twitter
Have a tip we should know? tips@mediaite.com