Obama Trashes Republicans Over Trump-Boosting, Singles Out Rubio: 'Come On, Man!'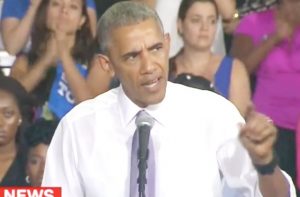 President Obama today went on another angry rant against Republicans who have cynically jumped around on whether or not they support Donald Trump. And because he was in Miami, he singled out Marco Rubio.
He trashed the Florida Republican for committing to vote for Trump despite calling him a dangerous con man who can't be trusted with nuclear weapons (comments Rubio never really took back, by the way).
And whatever separation of Trump and state existed before, Obama tore down the rest of it when he said that "Trump didn't come out of nowhere." He declared that for years, "far right media outlets" have been ginning up "all kinds of toxic crazy stuff," but Republicans who knew better looked the other way.
And then he got even more pissed off:
"Why would it take this long for Republican senators and Republican congressmen and Republican governors and state reps and state senators––why would it take you this long to figure out that Donald Trump shouldn't be president? If you've made a career of idolizing Ronald Reagan, then where were you when your party's nominee for president was kissing up to Vladimir Putin, the former KGB officer?! You used to criticize me for even talking to the Russians, now you're suddenly okay with your nominee having a bromance with Putin! If you come from a family of immigrants… where were you when your party's nominee for president called immigrants criminals and rapists? If you say you love the Constitution… but then you stand up and nominate and support a guy who says he would silence reporters, jail his political opponent in the middle of a debate, deport whoever he wants, I mean…"
He kept going and going before circling back around to Rubio and saying his Trump support shows a serious lack of leadership. The president even cried, "C'mon, man!"
Watch above, via CNN.
[image via screengrab]
— —
Follow Josh Feldman on Twitter: @feldmaniac
Have a tip we should know? tips@mediaite.com
Josh Feldman - Senior Editor