Obama: 'Understandable' for U.S. and Israel to Have Different 'Perspectives' on Iran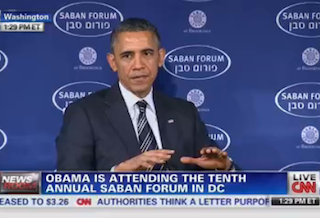 President Barack Obama sat down with Democratic donor and staunch Israel supporter Haim Saban Saturday at the 10th annual Saban Forum and spent most the nearly one-hour conversation defending the recent nuclear deal the U.S. and allies struck with Iran. While Obama confirmed that the U.S.'s "commitment to Israel's security is sacrosanct" he also acknowledged that there will times when he and Israeli Prime Minister Benjamin Netanyahu have "different tactical perspectives."
The president answered a question from Saban regarding a recent column from The New York Times' Thomas Friedman that said the U.S. needs some "crazy" on our side if we are going to negotiate with Iran. Specifically, Friedman was talking about the type of "crazy" found in Netanyahu.
Obama tactfully dismissed the notion that his Israeli counterpart is "crazy" before affirming the "constant consultation" and "strong" military and intelligence "cooperation" between the two countries since he took office. "Across the board, our coordination on the concrete issues facing Israel's security has never been stronger," he said. The president then laid out the reasons why the two leaders may not always agree on every aspect of what it takes to keep each country secure.
"There are times where I as president of the United States am going to have different tactical perspectives than the prime minister of Israel and that is understandable, because Israel cannot contract out its security. In light of the history that the people of Israel understand all too well, they have to make sure they're making their own assessments about what they need to do to protect themselves and we respect that and I have said that consistently to the prime minister."
The president went on to say that it is his view "from a tactical perspective" that the U.S. must pursue the recent deal with Iran. "It will make us stronger internationally, and it may possibly lead to a deal that we'll have to show to the world," he said.
Noting that the U.S. will continue to consult with Israel about the next iterations of the deal, Obama warned against the perils of avoiding diplomatic efforts on principle. "Presuming that it's going to be a bad deal, and as a consequence not trying for a deal, I think would be a dire mistake."
Watch video below, via CNN:
[photo via screengrab]
— —
>> Follow Matt Wilstein (@TheMattWilstein) on Twitter
Have a tip we should know? tips@mediaite.com