Obama Urges Nation To Go Over The Heads Of 'Filters' Like NRA And 'Pressure' Congress On New Gun Laws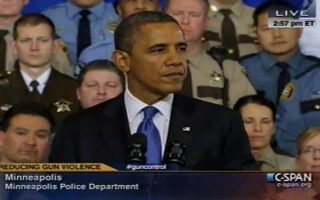 President Barack Obama delivered an address to an audience of lawmakers, law enforcement officers, and residents of the city of Minneapolis on Monday in order to keep the pressure on Congress to approve of new gun control measures. Obama urged his supporters to continue to lobby Congress for new laws and to go over the heads of "filters" like the National Rifle Association, which, the president claimed, is creating confusion and stoking opposition to new gun control laws.

RELATED: NRA On Obama Skeet Shooting Photo: Doesn't Erase 'Lifetime' Of Backing 'Every Gun-Control Scheme Imaginable'
"Changing the status quo is never easy," Obama began. "This will be no exception."
The president said that the only way gun laws will change is if there is broad public support for new laws and that support is measurable. "It's really important for us to engage with folks who don't agree with us on everything, because we hope that we can find some areas where we do agree," Obama said.
While he acknowledged that some new gun laws are controversial, Obama noted that some of the proposals he backs are almost "universally" popular.
"We know, for example, from polling that universal background checks are universally supported, just about, by gun owners," Obama added. "If we've got lobbyists in Washington claiming to speak for gun owners saying something different, we need to go to the source and reach out to people directly. We can't allow those filters to get in the way of common sense."
"That's why I need everybody who's listening to keep the pressure on your member of Congress to do the right thing," he continued.
Obama said that his administration would push for a ban on military-style assault weapons and high capacity magazines, and he hopes his supporters will lobby Congress in support of those measures.
Watch the clip below via C-SPAN:
> >Follow Noah Rothman (@NoahCRothman) on Twitter
Have a tip we should know? tips@mediaite.com