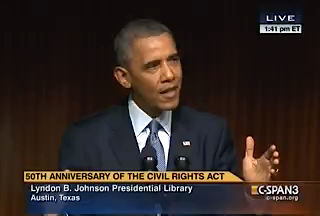 President Barack Obama punctuated his speech on the 50th anniversary of the signing of the Civil Rights Act Thursday with some fiery language that would not have sounded unusual coming from the mouth of former President Lyndon B. Johnson. Obama was speaking from Johnson's presidential library in Austin, Texas, and used that president's legacy of action against all odds to justify his own determination to fight for issues like affordable heath care for all and equality.
"The story of America is a story of progress, and that's true because of men like President Lyndon Baines Johnson," Obama said, describing a man who was "weaned in a world full of racial hatred" and yet "somehow found within himself the ability to connect his experience" to American children of all races.
"As powerful as he became in that Oval Office," Obama said of Johnson, "he understood what it meant to be on the outside, and he believed that their plight was his plight, too. That his freedom ultimately was wrapped up in theirs, and that making their lives better was what the hell the president was for."
Quoting Johnson's famous words from the House podium, where he argued for the passage of the Civil Rights Act, Obama sounded like he could just as well have been speaking for himself in these final years of his presidency.
"It never occurred to me, in my fondest dreams that I might have the chance to help the sons and daughters of those students, and help people like them all over this country," Obama said, echoing Johnson's words. "But now I do have that chance, and I'll let you in on a secret. I mean to use it. And I hope that you will use it with me."
Watch video below, via C-SPAN 3:
[photo via screengrab]
— —
>> Follow Matt Wilstein (@TheMattWilstein) on Twitter
Have a tip we should know? tips@mediaite.com