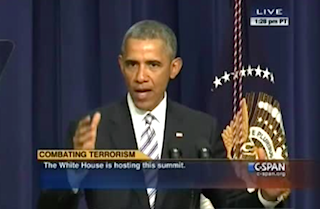 During his remarks at today's White House Summit on Countering Violent Extremism, President Barack Obama answered critics directly by laying out exactly why he and members of his administration do not use the word "Islamic" to describe extremist terrorist groups like Al Qaeda and ISIS.
"Leading up to the summit has been a fair amount of debate in the press and among pundits about the words we use to describe and frame this challenge," Obama said. As he sees it, al Qaeda and ISIS are "desperate for legitimacy" and try to "portray themselves as religious leaders, holy warriors in defense of Islam."
By calling itself the "Islamic State," the president said, ISIS "propagates the notion that America, and the West generally, is at war with Islam."
"We must never accept the premise that they put forward because it is a lie," Obama continued. "Nor should we grant these terrorists the legitimacy they seek. They are not religious leaders, they are terrorists," he said to applause. "We are not at war with Islam. We are at war with people who have perverted Islam."
The president went on to say that Muslim communities have a "responsibility" to reject the terrorists' version of Islam. "They do depend upon the misperception around the world that they speak in some fashion for people of the Muslim faith, that Islam is somehow inherently violent," Obama said of extremists.
"The terrorists do not speak for a billion Muslims that reject their ideology," he continued. "They no more represent Islam than any mad man who kills innocents in the name of God represents Christianity or Judaism or Buddhism or Hinduism. No religion is responsible for terrorism, people are responsible for violence and terrorism."
Of course, Obama did not mention that, at least in today's society, far more people are dying in the name of Islam than any of the other religions he mentioned. Despite consistent calls from the right for the Obama administration to label groups like ISIS "Islamic extremists," the president and his team are not budging from the stance that says those words would only "legitimize" their actions.
Pundits like Bill O'Reilly may believe that the U.S. is in a "holy war" against radical Islamists, but President Obama is insisting that "we are not at war with Islam."
Watch video below, via C-SPAN:
[Photo via screengrab]
— —
>> Follow Matt Wilstein (@TheMattWilstein) on Twitter
Have a tip we should know? tips@mediaite.com