Obama Welcomes PM David Cameron To U.S.: British 'Really Lit Up' White House Back In The Day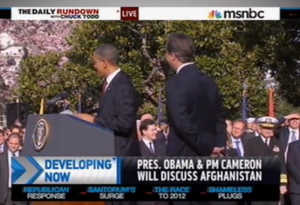 British Prime Minister David Cameron's paying a visit to our side of the pond, and Wednesday morning the White House welcomed him to the good old US of A — complete with speeches from President Obama and Cameron himself. The two poked fun at history of the special relationship (and the two different English languages), and they emphasized commitment to their alliance.
"It's been 200 years since the British came here to the White House, under somewhat different circumstances," Obama said, garnering laughs. "They made quite an impression, they really lit up the place. But we moved on." Today, he continued, they meet to reaffirm "one the greatest alliances the world has ever known."
Obama also remarked on the Queen of England's diamond jubilee (celebrating 60 years on the throne) before moving on to elaborate that despite the many "twists and turns" in history, the "essential" U.S.-U.K. alliance holds steady. "We stand together and we work together and we bleed together and we build together," Obama said. The relationship is the "strongest it's ever been," he added.
"David, we are chuffed to bits that you are here," he said, poking fun at Britishisms, before handing over the podium to the prime minister. "I am a little embarrassed," Cameron said, "as I stand here, to think that 200 years ago, my ancestors tried to burn this place down." He added, "You've got the place a little better defended today."
Laughs all around!
On a more serious note, the two leaders will be sitting down to discuss a host of issues today including the war in Afghanistan, which has been making headlines recently — and is a war the British are also deeply involved in.
Take a look, via MSNBC:

Have a tip we should know? tips@mediaite.com