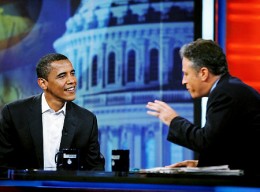 Well this explains it. Turns out President Obama went outside the usual circle of speechwriters for his comedic address at this weekend's WHCD. Instead he enlisted Daily Show writer Kevin Bleyer to assist in the penning of the one zingers that stole the show Saturday night (right out from under Jay Leno's feet). This from The Daily Beast's Lloyd Grove, who confirmed with David Axelrod that there had been an assist from a pro:
Obama…came armed with fresh and funny material that prompted some of the biggest laughs I've witnessed the Leader of the Free World receiving in more than two decades of attending this strange Washington media-political celebration of self-congratulation
Jay Leno, alas, had to rely on his own material.
Leno, while entirely competent, recycled and repurposed old material from his television show—and even made a mother-in-law joke. After one of his japes was greeted by eerie silence, it was hard not to feel a tinge of sympathy for him when he marveled desperately, "This is a tough room!"
So there you have it. Funny explained.
Update: The Daily Beast added this update to their post clarifying that Kevin Bleyer acted alone: "A Comedy Central spokesman called to clarify that one, repeat one, veteran Daily Show comedy writer, Kevin Bleyer, was acting independently when he wrote jokes for the president. No word on whether Bleyer was working as a volunteer or a paid consultant."
Related:
Watch President Obama at the WHCD.
Watch Jay Leno at the WHCD.

This post has been edited to reflect the correction in the update above.
Have a tip we should know? tips@mediaite.com