Obama: When It Comes to Islam and America, 'There Is No Us and Them – Only Us'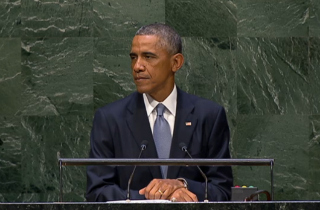 President Barack Obama on Wednesday addressed the United Nations General Assembly, focusing in large part on the U.S.'s current battle against the Islamic terrorist network ISIS.
Obama said that the U.S. is dedicated to fighting al Qaeda "and its associated forces" but said the U.S. "is not and never will be at war with Islam."
"Islam teaches peace. Muslims the world over aspire to live with dignity and a sense of justice," he said. "And when it comes to America and Islam, there is no us and them -– there is only us, because millions of Muslim Americans are part of the fabric of our country."
Obama continued: "So, we reject any suggestion of a clash of civilizations. Belief in permanent religious war is the misguided refuge of extremists who cannot build or create anything, and therefore peddle only fanaticism and hate. And it is no exaggeration to say that humanity's future depends on us uniting against those who would divide us along fault lines of tribe or sect; race or religion."
Obama emphasized that the U.S. is not acting along in fighting ISIS — several Arab countries have committed to joining the U.S. — and he called on other nations to join. "Today, I ask the world to join in this effort," he said. "Those who have joined ISIL should leave the battlefield while they can."
Obama also called on Muslim global communities, "especially," to reject extremism.
Obama's full remarks on ISIS (ISIL):
First, the terrorist group known as ISIL must be degraded, and ultimately destroyed.

This group has terrorized all who they come across in Iraq and Syria. Mothers, sisters and daughters have been subjected to rape as a weapon of war. Innocent children have been gunned down. Bodies have been dumped in mass graves. Religious minorities have been starved to death. In the most horrific crimes imaginable, innocent human beings have been beheaded, with videos of the atrocity distributed to shock the conscience of the world.

No God condones this terror. No grievance justifies these actions. There can be no reasoning – no negotiation – with this brand of evil. The only language understood by killers like this is the language of force. So the United States of America will work with a broad coalition to dismantle this network of death.

In this effort, we do not act alone. Nor do we intend to send U.S. troops to occupy foreign lands. Instead, we will support Iraqis and Syrians fighting to reclaim their communities. We will use our military might in a campaign of air strikes to roll back ISIL. We will train and equip forces fighting against these terrorists on the ground. We will work to cut off their financing, and to stop the flow of fighters into and out of the region. Already, over 40 nations have offered to join this coalition. Today, I ask the world to join in this effort. Those who have joined ISIL should leave the battlefield while they can. Those who continue to fight for a hateful cause will find they are increasingly alone. For we will not succumb to threats; and we will demonstrate that the future belongs to those who build – not those who destroy.

Second, it is time for the world – especially Muslim communities – to explicitly, forcefully, and consistently reject the ideology of al Qaeda and ISIL.

It is the task of all great religions to accommodate devout faith with a modern, multicultural world. No children – anywhere – should be educated to hate other people. There should be no more tolerance of so-called clerics who call upon people to harm innocents because they are Jewish, Christian or Muslim. It is time for a new compact among the civilized peoples of this world to eradicate war at its most fundamental source: the corruption of young minds by violent ideology.
Watch the full speech below, via Fox News:
[Photo via screen grab]
— —
>> Follow Eddie Scarry (@eScarry) on Twitter
Have a tip we should know? tips@mediaite.com