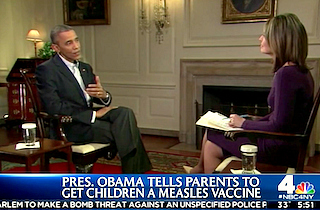 During an interview with NBC's Savannah Guthrie, President Barack Obama "strongly encouraged" parents to vaccinate their children.
"You should get your kids vaccinated," Obama said. "It's good for them."
Obama's remarks followed a severe outbreak of measles traced to Disneyland and that now numbers over 100 cases spread across twelve states. Measles was long thought eradicated, but has reemerged since vaccines became a subject of controversy.
"The fact is a major success of our civilization is our ability to prevent diseases that in the past have devastated folks," Obama said. "Measles is preventable. I understand that there are families that are concerned about the effect of vaccinations. The science is pretty indisputable. We've looked at this again and again. My children are vaccinated."
Just today New Jersey Governor Chris Christie said that parents should have "some measure of choice" concerning vaccinations. But as Obama and CDC Director Tom Freiden pointed out, vaccinations also protect those whose immune systems deny them the opportunity to be vaccinated.
"If you have a certain group of kids who don't vaccinated, if it grows large enough, then the folks who can't get vaccinated — small infants for example, or people with certain vulnerabilities that can't get vaccinated — they suddenly become much more vulnerable," Obama said. "They're counting on us to create this protective fence."
Watch a clip below, via NBC News. The entirety of the president's comments were made during the online version of Guthrie's interview, which you can watch here:
[Image via screengrab]
——
>> Follow Evan McMurry (@evanmcmurry) on Twitter
Have a tip we should know? tips@mediaite.com