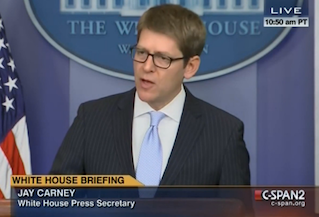 During Tuesday's briefing, White House Press Secretary Jay Carney announced that health insurance sign-ups under the Affordable Care Act reached the Obama Adminstration's 7 million goal by yesterday's March 31st deadline. He did not follow his statement with the words, "April Fools!"
Carney, who donned a Boston Red Sox cap at the top of the briefing to celebrate the World Series champions' trip to the White House, said that with a "remarkable surge in enrollment" approximately 7,041,000 people signed up for health insurance before yesterday's midnight deadline. As of March 27th, the White House had the total number at 6 million. He put the total federal marketplace sign-ups on March 31st alone at over 200,000. As Carney explained, that new total does not include the last day surge in sign-ups in states.
"I hope the fact that this seven million number has been reached allows us all to step back and look at the sweeping, positive change that the law has ushered in to strengthen health security for every American as they go through life," Carney stated. He also pointed out that sustained Republican opposition has ultimately failed to keep it from working properly.
When the inevitable question came about the breakdown of that 7 million number – how many were previously ensured, what are the age demographics, how many have paid premiums, etc. — Carney said that information would be forthcoming from CMS and the Department of Health and Human Services. In the meantime, Carney urged the media to "step back" and look at the bigger picture.
"When you buy health insurance from a private provider, you enter into a contract," Carney said. "And long before the Affordable Care Act was even contemplated and certainly before it became law, a lot of people bought health insurance, and the overwhelming majority of them paid for their health insurance on time. There will be nothing different about this."
Watch video below, via C-SPAN 2:
[photo via screengrab]
— —
>> Follow Matt Wilstein (@TheMattWilstein) on Twitter
Have a tip we should know? [email protected]