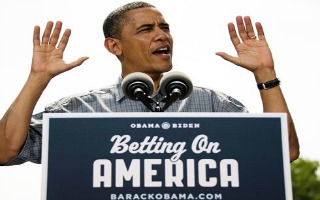 What a difference a day makes. On Thursday, the sky was falling in on Mitt Romney's presidential campaign. Prominent conservatives had turned on his flailing messaging, his "insular" and tenured staff, and his seeming aversion to putting forward his plan for an economic recovery. Today, all that talk is ancient history as a second dismal monthly jobs report and an even more rudderless, tone-deaf speech by President Barack Obama now make Romney appear, comparatively, like the personification of political acumen.

RELATED: Conservatives Sounding Alarm Bells: Romney Campaign's Missteps Leave Supporters Anxious
A panel discussion on MSNBC following Obama's response to the weak June jobs report encapsulated the President's problems rather well. The sentiment expressed by most of the panelists was essentially that while Romney's policies – insofar as they are understood – would exacerbate an already problematic recovery, Obama's speech was not helpful and may have even further alienated voters.
MSNBC anchor Thomas Roberts referenced a column by Jonathan Rauch in Friday's Washington Post in which he issues a stark warning to President Obama. Rauch wrote that Obama could ultimately share the same electoral fate as President Jimmy Carter unless he puts forward a plan for how he will deliver the economy from its present stagnation. Rauch could not have known how apt his analogy would become mere hours after his piece was published in the Post.
Rauch's recommendations, though, are dubious: More economic stimulus bills that will not pass Congress, a long-term debt limit expansion that will also die in the lower chamber, and the adoption of the recommendations presented in the Simpson-Bowles deficit reduction plan.
The President will not adopt any of these proposals because they are politically unappealing. While it may be tempting to hand Congress more bills for it to shoot down in order to frame them as stumbling blocks on the road to recovery, the American Recovery and Reinvestment Act (e.g. the stimulus) is anything but popular. Indeed, more than two thirds of voters in 2010 thought the stimulus bill was a "waste."
Obama proposed more of the same in the form of the American Jobs Act, which was designed to provide funds to municipalities to hire and retain teachers and service personnel. While Congress did not benefit from balking at passage of the bill, Obama experienced no polling bounce from either its proposal or its failure to pass the Republican House.
As for Simpson-Bowles, it may be a politically popular solution that would resonate with voters if Obama backed it, but that would be an about-face. The President has exhibited a predisposition to avoid being cast as unsure of his actions, so that is also an unlikely course of events.
So "Carterdom," as Rauch called it, looms. But the turning point in the campaign, if Republicans are able to harness it, could have arrived quietly and without fanfare today.
Obama's lurching and unsure speech was more than disheartening in the face of a stalling economy – it was terrifying. The President showed that he and his administration are bereft of ideas. Their economic arrows have all been fired. Keynesian "pump priming" failed to jolt the economy back to life and there was never any plan B.
But it was Obama's invocation of his childhood – and how he spoke of American's aspirations for themselves and their families – that was simply devastating.
"Maybe you took a vacation every once in a while. It wasn't some fancy vacation at some fancy resort," the President said attempting to draw the implication that the Romneys' trip to Lake Winnipesaukee — where they were photographed riding in jet skis — was insufficiently proletarian.
Obama recounted the "best vacation I had when I was a kid," which consisted of riding on trains and Greyhound buses across the country with his family and staying at Howard Johnson hotels along the way.
"I was eleven, so there was any kind of swimming pool…it was very exciting," Obama said. "You were very excited to go where the vending machine was and the ice machine and get the ice."
It was quaint, homespun Americana. There is nothing wrong with Greyhounds or HoJos; President Obama's experience is probably similar for a majority of Americans are fortunate enough to be able to afford a summer vacation with their families. But it was also quite insulting.
Does the President believe that Americans' aspirations amount to a vacation with travel provided by Greyhound and accommodations by HoJo? Or does he think that Americans will simply settle for that in these tough times?
Does Obama also think they will maybe settle for him as well in November? Because that is the argument as the President framed it: Times are tough. They are not getting better anytime soon. If I couldn't revive the failing economy, no one can. My fellow Americans, it is time to settle.
But Americans have never settled. The character of this country simply does not allow for capitulation in the face of adversity. Built into the nation's DNA is an insatiable desire to advance and an admirable, if manic, lack of self-satisfaction. Americans are eternally striving for something better for themselves and their families. They are eager for a President who understands this and shares those aspirations.
To be able to afford a "fancy vacation" at a "fancy resort" is not something average Americans vilify. Even those voters possessed with the most vitriolic hatred for those more fortunate than they want their children to experience the best that life has to offer and to have access more and greater opportunities than they had. What's more, they want a government that does not presume that all their citizens want is to subsist. Americans want to thrive.
CNBC economic analyst Ron Insana gets it. In a conversation with MSNBC contributor Jared Bernstein (who he says he usually agrees with what serves as a window into Insana's economic philosophy), Insana lambasted the President's speech.
"I found the President's comments neither inspirational nor aspirational," said Insana. "He described a childhood that I very much can relate to. From an economic perspective, it's effectively, for lack of a better description, a lower middle class existence."
"If that's the aspiration that he's suggesting we all return to, it's not the type of thing that excites voters," Insana said.
In June of 1979, what became known as Carter's "malaise speech" passed by political pundits largely unnoticed. But historians looked back on the speech as being formative and symbolic. Today, the speech is universally seen as a dreadful political mistake that typified the former Georgia governor's presidency. His "Crisis of Confidence" address defined down what Americans should expect for their futures and those of their families. Carter laid out a plan for an America that measured its value in faith rather than possessions – but American's weren't ready to settle. They never have been.
If Rauch thought "Carterdom" loomed for Obama prior to today's economic news and his administration's response, I wonder what he thinks after today's speech. While it will escape unnoticed by pundits and political reporters today, Obama's "Howard Johnson Address" may be looked back on as a pivotal moment if Americans opt not to settle in November.
Watch the MSNBC panel discussion below:
> >Follow Noah Rothman (@Noah_C_Rothman) on Twitter
Have a tip we should know? tips@mediaite.com