Obama's Job Approval Collapses, 52 Percent Disapprove In Latest Fox News Poll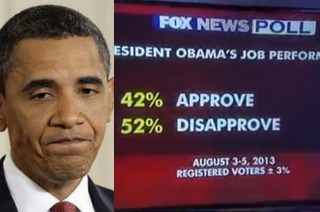 The latest Fox News poll, conducted jointly by the Democratic firm Anderson Robbins Research and the Republican firm Shaw & Company Research; show that President Barack Obama's job approval rating has taken a dramatic hit in recent weeks. That survey, taken from August 3-5 of 1,007 registered voters, shows that 52 percent of respondents disapprove of the job the president is doing compared to just 42 percent who approve. This is a significant move from the last Fox News survey, taken July 21 – 23, which showed 47 percent of registered voters disapproving of the president's job performance and 46 percent approving.

13 percent of self-identified Democrats and 60 percent of independents disapprove of the president's performance in office. A slight dip in Obama's support among women and African-Americans from the last Fox News poll partially explains this collapse, but a dramatic drop in support among non-college educated voters is more instructive as to why Obama's approval rating has tumbled.
In late July, 49 percent of non-college educated voters disapproved of the president's job performance while 45 percent approved. Today, only 40 percent of this demographic approve of Obama while 53 percent disapprove.
When voters were asked "what do you think the best way for President Obama to go about solving the nation's problems," only 24 percent answered, "by traveling the country and making speeches about his policies to voters." 63 percent replied that Obama should lock "himself in a room with Republicans" and hash out solutions. In February, 32 percent agreed with the notion that a national campaign tour was an effective solution to America's problems while 59 percent did not.
Furthermore, 71 percent of voters said that the president has said the "same things" he has on the past while on a recent tour of the country. Only 20 percent believe that Obama articulated "new ideas."
"This 52 percent matches the highest disapproval back to September of 2010," said Fox News Channel anchor Bret Baier on Thursday. "And you'll remember, September of 2010 was just a couple months before a big loss in that midterm and Republicans picked up the House."
"There's a sense that this place is not working," he continued. "That Washington is not working."
This survey could be considered either an outlier or a leading indicator, depending on the reading of other pollsters surveying the national political landscape within the last two weeks.
Polls of registered or likely voters in the last week have shown the president's approval rating to be underwater. In the last week of July, A Quinnipiac University poll showed 48 percent of registered voters disapproving of the president's job performance and 46 percent approving. A Rasmussen Reports poll of likely voters showed that 51 percent of respondents disapproved of Obama's job performance while 48 percent approve.
The Fox News poll has a margin of error of +/- 3.0 percent.
> >Follow Noah Rothman (@NoahCRothman) on Twitter
Have a tip we should know? tips@mediaite.com